NSE suspends KQ shares as nationalisation plan enters home stretch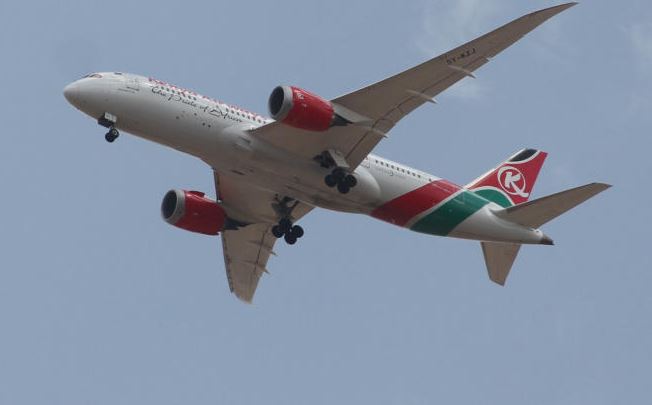 Kenya Airways (KQ- above) shares have been suspended from trading at the Nairobi Securities Exchange (NSE) following the commencement of plans to privatise the carrier.
The tabling of the National Management Aviation Bill 2020 in Parliament last week set the stage for KQ's shareholding to revert to government.
When in place, the legal framework will guide government's buy-out of retail investors while major shareholders, including a consortium of local banks, are likely to convert their shareholding into Treasury bonds.
The Government has a 48.9 per cent stake in the carrier while another 38.1 per cent is owned by the banks through the KQ Lenders Company 2017 Ltd. Air France-KLM has a 7.8 per cent shareholding.
NSE in a statement said following the tabling of the bill, KQ had requested its shares be suspended from trading.
"Notice is hereby given on the suspension from trading of Kenya Airways shares. The company's operational and corporate restructuring and government buy-out is now imminent following the publication of the National Management Aviation Bill 2020," said NSE in a statement yesterday.
"Subsequently, the company has applied for suspension of trading in its shares and closure of register until the resolution of its future is determined. The approval was made by Capital Markets Authority."
Following the tabling of the Bill in Parliament on June 18, the price of Kenya Airways shares has been going up as investors bought the share in anticipation of being bought out by the Government at a premium.
The share traded at Sh3.83 on Thursday, up from Sh2.79 on June 19. The stock performed poorly over the last year, sinking to a low of 80 cents a share.
It opened the year at Sh2.05 and has since grown 86.8 per cent to the Thursday level of Sh3.83, making it one of the best performing stocks at the Nairobi bourse in 2020.
KQ has been pushing for nationalisation, which its leaders argue is the only way for it to survive. The carrier last made a profit in 2012.
KQ managers have argued that reverting to government would put the carrier at an equal footing with its competitors such as Ethiopian Airways and a host of Arab carriers, which have dominated the Kenyan and regional airspace.
The said competitors are government-owned and KQ has in the past noted that they are not necessarily driven by profit making.