President Uhuru likely to lift Nairobi, Mombasa lockdowns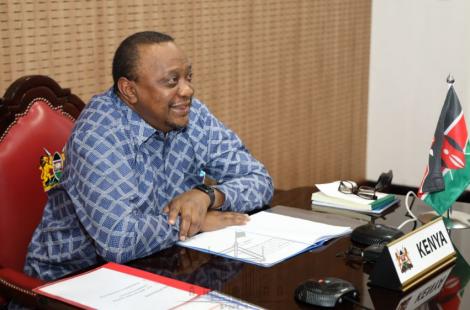 President Uhuru Kenyatta will be expected to address the nation on matters reopening of the economy on July 6.
Speaking during a virtual meeting hosted by Corporate Council on Africa Leaders Forum on June 26, President Uhuru hinted on a likelihood of re-opening the country starting with flight operations.
"We are going to be starting the domestic flights and this is what we will use as a trial in the next couple of days. We are opening the intercounty lockdown and ultimately that will set the pace for us to open to international flights, "said the Head of State during the virtual forum.
The President further added that,
"It is necessary to put safety measures because opening up too quickly has its downside as we have seen across the world."
"We are very eager to open up but at the same time, we are eager to ensure we remain safe and save lives. We are doing everything we can to ensure we get our planes back in the sky."
The address comes at an hour where the national airline is struggling to remain afloat due to the effects of the pandemic.
In an earlier address to the media, the Chief Executive Officer of Kenya Airways Allan Kilavuka stated the national carrier has lost about Sh10 billion in revenue since January and predicts further losses of up to Sh50 billion by December if the pandemic persists.
"Our plea is that can we start flying as soon as possible, even if it is at a reduced level, any commercial flights will help us a lot, so can we start earning revenue, bring tourists to Kenya, bring business meetings, hotels will open, create more job and get more people to work," said Kilavuka.
According to the progressive rise of infections, June has seen a higher surge in positive cases which health experts describe as an exponential stage which may overwhelm the health system.
The current restrictions still in place include cessation of movement in to and out of Nairobi and Mombasa and nationwide dusk to dawn curfew.
The lockdown which was extended on June 6, 2020, for a further 30 days elapses on July 6, 2020.
In a meeting with governors on June 25, the President mentioned that the re-opening of the country will be dependent on the level of preparedness across the counties in response to coronavirus infections.
So far 41 counties have reported cases of coronavirus infection in the country bringing to a total of 6,190 Covid-19 infections.