Doctor pleads for Atul to escape jail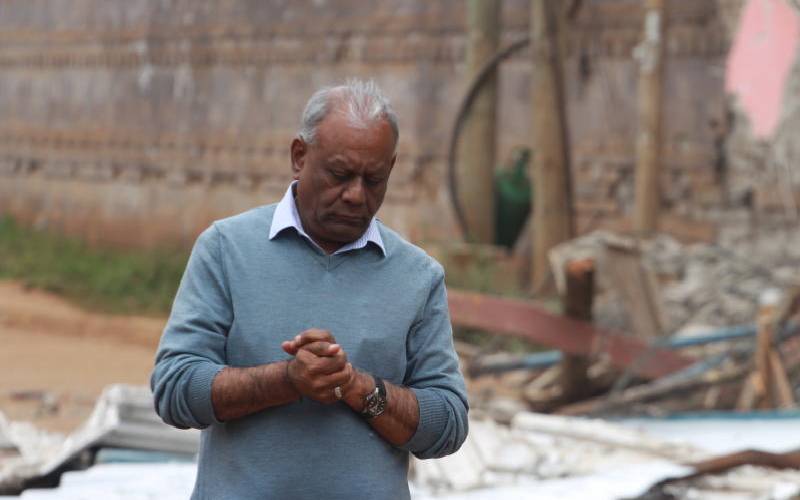 A personal doctor to Nakumatt Chief Executive Atul Shah has testified that his client cannot attend court sessions due to chronic illness that has confined him to bed rest amid a warrant of arrest in a Sh74 million rental dispute.
Hemendrasinh Vaghela said Atul was suffering from a myriad of conditions including high blood sugar, diabetes and fluctuating blood pressure.
In an application filed before High Court Judge Charles Yano, Atul is seeking the court's intervention to stop the police from arresting him after a warrant was issued by a magistrate's court for failure to appear in court.
"I visited the above mentioned patient at his residence on the evening of February 11, 2020 and he was suffering from effects of high blood sugar levels, diabetes and fluctuating blood pressure, hypertension as well as fresh symptoms of acute angle-closure Glaucoma," said Dr Vaghela.
MP Shah Hospital also said the Nakumatt CEO attended their satellite hospital at Village Market on February 4, 2020 with severe hypertension and uncontrolled diabetes.
Atul's lawyer Daniel Ngonze said the CEO was acutely indisposed and unable to personally engage in court proceedings.
On June 11, 2020 Mombasa magistrate Christine Ogweno issued a warrant of arrest against Shah for failure to provide a medical report proving that he was indeed sick, and contempt of court for failing to pay the said amount.
"This is to you to arrest the said Atul Shah and unless he shall pay to you the sum of Sh74,438,765 together with police expenses and fees, if any, to bring the said judgement debt before the court with all convenient speed," said Ms Ogweno.
The boss of troubled retailer Nakumatt is embroiled in a Sh74,438,765 rental dispute with the supermarket's former landlord in Mombasa, Ideal Location.
Nakumatt filed a counterclaim demanding Sh11 billion for losses in stock, fixtures and fittings through damages and looting during its eviction from the premises in 2018.
It also seeks compensation for lost income and business for the unexpired period of the lease agreement as well as irreversible injury.
Ideal Location lawyer Willis Oluga said Atul failed to pay the said arrears in which he had guaranteed payment of rent amounting to Sh39,049,812.
On November 8, 2019, Ogweno issued a notice to show cause against Atul, who had been admitted at MP Shah with chronic blood pressure.
Ngonze applied for stay of execution of the notice to show cause, arrest by police and all other proceedings in the lower court. Atul also sought the orders to have the High Court to dispense him from attending court in person in any proceedings related to the notice to show cause.
Ngonze also applied to have Justice Yano set aside the execution process of recovering the whole debt as decreed by the court in 2018.
Nakumatt's administrator Peter Kahi, in a sworn affidavit, said the issuance of the warrant of arrest against Shah was out of non-filing of a medical report on his health status on or before March 3, 2020.
"Non-filing of the said report as above was not contemptuous of the honourable court's directive, rather a combination and permutation of factors beyond Shah's control and influence," he said.