Boost for farmers as ministry rolls out plan to save livestock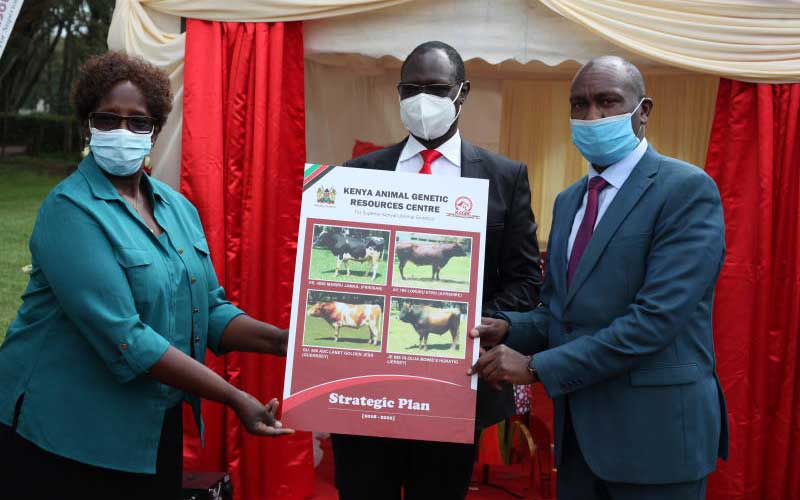 Kenya is embarking on a national vaccination exercise to save livestock and boost livelihoods.
Agriculture, Livestock, Fisheries and Co-operatives Cabinet Secretary Peter Munya launched the national livestock vaccination programme on Friday, a day after the launch of a strategic plan by the Kenya Animal Genetic Resources Centre (KAGRC), aimed at boosting quality of animal breeds.
The programme will ensure that animals are sheltered from an array of diseases, especially in areas where farmers are poor and their animals left vulnerable to disease outbreaks.
The CS assured sector stakeholders that the government was doing everything it could to help in the fight against livestock diseases.
"Our country has developed strategies to control these diseases. The strategies call for specific measures to be undertaken by stakeholders to control and eventually eradicate diseases that threaten our livestock population," said Munya.
"Such measures include putting into place strict movement controls, instituting proper farm biosecurity and regular vaccinations of farm animals."
Kenya's livestock sector accounts for about 4.4 per cent of the country's gross domestic product (GDP) or about 14.2 per cent of the agricultural value add. The sector employs 50 per cent of the agricultural labour force and generates a significant number of jobs along the value chain.
About 60 per cent of the livestock population is reared in arid and semi-arid lands (Asals) where 90 per cent of the population raises animals both for meat and milk production.
In high rainfall areas, the sector provides employment and income, mainly through dairy, poultry and pig production.
Munya said the country's animal population comprises 18.8 million cattle (14.3 million of them beef cattle and 4.5 million dairy), 26.7 million goats, 18.9 million sheep and 3.2 million camels.
There are also 44.6 million poultry, 1.9 million donkeys, 0.5 million pigs and an undetermined number of companion, game and aquatic animals.
Just like in many other sub-Saharan countries, livestock production in Kenya is always under the threat of numerous animal diseases. These include Rift Valley Fever, foot and mouth disease, lumpy skin disease, camel pox, sheep and goat pox, Contagious Bovine Pleuropneumonia and brucellosis.
These diseases are referred to as trans-boundary animal diseases (TADs) and have affected livestock farming in Kenya and neighbouring countries.
Within Kenya, TADs easily move across county boundaries, in the process reaching epidemic proportions.
Munya called on county governments to come together to eliminate the disease.
"Vaccination of animals, as with other disease control measures, is a county government function, according to our Constitution. In the past few years, we have seen county governments take up the task, but with mixed results," he said. "No county government can undertake successful disease control unless they allocate sufficient funding towards the livestock sector. I, therefore, call upon county governments to put more funds towards controlling animal diseases.
"Let today be the start of a focused, co-ordinated approach by all county governments aimed at getting rid of this major drawback to livestock production in Kenya."
In the earlier event on Thursday, KAGRC announced plans to start chicken breeding and artificial insemination of pigs by 2022. There are 62 agents supplying the semen strolls across the country. One stroll retails at Sh200.
"The goat station in Ahiti Doba in Kirinyaga County was allocated Sh400 million and is 90 per cent complete. By the end of the year we will launch the first artificial goat insemination centre in Africa," said KAGRC Board Chairman Geoffrey Kamau.
The project will target Asal areas and once it kicks off, dairy goats are expected to start producing a minimum of eight litres of milk a day.
"This strategic plan focuses on Asal areas to improve their livestock. It goes hand in hand with the government agenda of enhancing food security and providing employment opportunities," said Agriculture Chief Administrative Secretary Linah Kilimo.