Naivasha flower farms resume operations after Covid-19 setback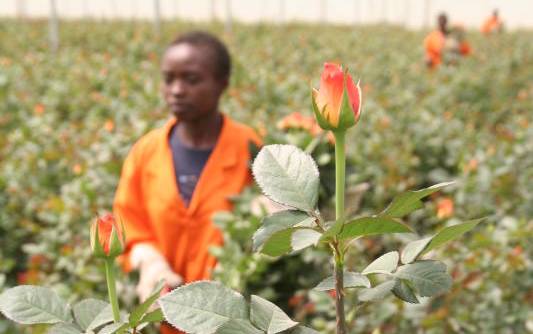 Flower farms in Naivasha that had shut down and send workers on unpaid leaves due to the Covid-19 pandemic have resumed operations.
The closure of the farms that was meant to stop the spread of corona-virus had hit hard the export business that dropped to less than 20 per cent in two months.
More than 2,000 workers were rendered jobless for three months when the companies closed the business due to the lock-down in the European market.
But yesterday, there was good news from the companies under the Lake Naivasha Growers Groups (LNGG), which announced that the business was back to normal and that they have already hit the 60 per cent of flower export.
Most of employers have also started recalling their workforce as tidings in the sector that is one of the leading exports earners changed.
According to LNGG, an organization that brings together the top flower farms in Naivasha, there was hope for the sector after a grim period.
The group Chief Executive Officer Joseph Kariuki, said the EU market was opening up after the lock down caused by the pandemic with 90 percent of their workers back to work.
He said that members of the organization accounted for 70 percent of flowers exported from the country and had borne the major losses during the period.
"Currently our exports stand at 60 percent despite challenges like high flight charges as many airlines are not operational and we hope that this will change with time," he said.
Speaking during a stakeholders meeting held at Hellsgate national park, Kariuki at the same time denied that they had sent home over 10,000 homes.
He noted that despite the effects of the pandemic, no worker had been sent home with many companies and their employees agreeing on unpaid leave.
"Reports in the media that flower farms in Naivasha have sacked their workers are misleading as we have maintained our workforce but they are home on unpaid leave," he said.
Kariuki noted that the high number of persons who have flocked Lake Naivasha in search of a meal could either be workers from other sectors and not necessarily flower farms.
One of the leading farmers Jack Kneppers said that currently all their production of around 180,000 stems of roses were been shipped out every day from zero two months ago.
Kneppers who is the MD of Naivasha based Maridadi flower farm added that all his 700 workers were back on duty after as demand for the product in the market increased.
"On a normal day we export around 220,000 stems of roses but some of our greenhouses are under maintenance but all the daily harvest is been shipped out," he said.
He added that they were keenly following the laid down Covid-19 regulations of social distance, wearing of masks, monitoring their workers temperatures and hand washing.
On VAT refunds, he expressed his displeasure that KRA had only refunded a partial of the funds a move that had little effect on the farmer's finances.
"We are happy that the market is finally reopening and nearly 75 per cent of cargo planes are back to the operation but many farmers are not operating fully due to the losses incurred," he said.
On his part, the secretary-general Kenya Plantations and Agricultural Workers Union (KPAWU) Naivasha branch Ferdinand Juma accused some farms of using the pandemic to change workers employment contracts.
He said that the pandemic had become a new excuse for the employers to suspend the contracts of their workers even as the EU market opened up.
"We understand that the pandemic has left farmers incurring huge losses but it's illegal to review the employees contract based on the current crisis," he said.
Juma revisited the move by Naivasha based Oserian Flower farm to send over 1,200 workers on unpaid leave without involving their representatives terming this as illegal.
"We have laid down labour laws which some employers have refused to abide with and this has caused disharmony in the sector that employs hundreds in Naivasha," he said.
Speaking earlier, the CEO Kenya Flower Council (KFC) Clement Tulezi said that the sector had started to recover despite emerging challenges like high flight charges.
Tulezi noted that they expected exports to rise by 80 per cent by the end of this year as various EU countries continued to relax their lockdown regulations.
"We have been one of the sectors hardest hit by the pandemic and we project that this we shall return to normal business by mid next year," he said.
He said that it would take a year for the floriculture sector to fully recover following the financial losses incurred due to Covid-19 pandemic.
"The floriculture was adversely affected by the pandemic and we estimate that we shall fully recover by June 2021 if the government supports this sector that earns billions every year," he said.
On flights, the CEO admitted that this was one of the major challenges they were getting as they tried to export their products and called for government intervention by offering cargo planes.
"Currently our weekly demand is 2,800 tonnes per week but we can only export 1,000 tonnes due to lack of flights and the high charges," he said.