NHIF to reap more from public service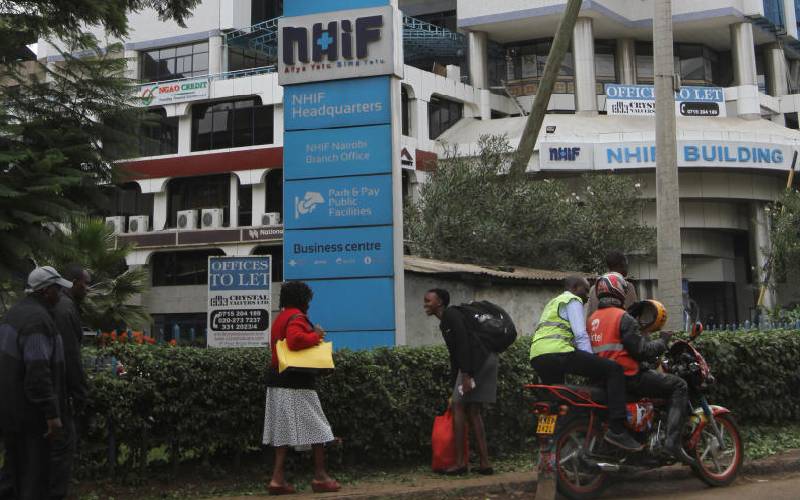 The government plans to consolidate all medical insurance covers for civil servants under the National Hospital Insurance Fund (NHIF).
If the initiative sails through, private insurers stand to lose millions in earnings annually.
In a special gazette notice released last week, Treasury Cabinet Secretary Ukur Yatani waived several legal conditions that will now allow NHIF extend its functions and operations to providing insurance services for the public sector.
"The Cabinet Secretary for National Treasury exempts NHIF from provisions of sections 19, 179(6), 197A and 197B of the Insurance Act for purposes of offering enhanced medical group life and last expense cover for the Kenya prisons service, county governments, county assemblies, constitutional commissions, state departments, retired presidents, vice presidents and other designated state officers and retired public servants under the Kenya Association of retired officers and former parliamentarians association," read the notice signed by Mr Yatani.
The change in law means NHIF will now have mandate to provide medical and group life cover for civil servants, directly competing with private insurance business.
The legal exemptions allow NHIF to operate at par with private insurance service providers at a time the sector is reeling from dwindling margins.
According to the latest annual report by the Insurance Regulatory Authority (IRA), insurance companies reported Sh97 billion in gross premium income for the fourth quarter of the 2019-20 financial year, up from Sh87 billion reported in a similar period the previous year.
A large proportion of this income is derived from the public sector, with accounts like the Kenya Police and Teachers Service Commission routinely causing tender disputes owing to the hundreds of millions in premiums involved.
NHIF has in recent past provided medical cover for police and other civil servants. The changes in law have received opposition from private insurance operators.
The regulator last year directed NHIF to stop offering group medical cover and last expenses cover to civil servants until it abides by the law.
The Kenya Police for example has 106,553 police officers; the public service has 130,000 civil servants. Their medical cover is now expected to be provided by NHIF.
Treasury has further exempted NHIF from paying the insurance premium levy and the insurance training levy, in a move that gives the State insurer an edge over private firms. Yatani appears to have reversed an earlier directive that barred NHIF from engaging in commercial activities.
The directive has spelt that NHIF had to abide by Section 19 of the Insurance Act if it wants to provide commercial insurance services as it has been doing for State employees and private companies.
Last year, Yatani told NHIF to comply with Section 19 of the Insurance Act, which places all commercial insurers under IRA. "If NHIF decides to provide commercial services it must comply with Section 19 of the Insurance Act," Yatani said.