CoG seeks release of Sh76 billion to counties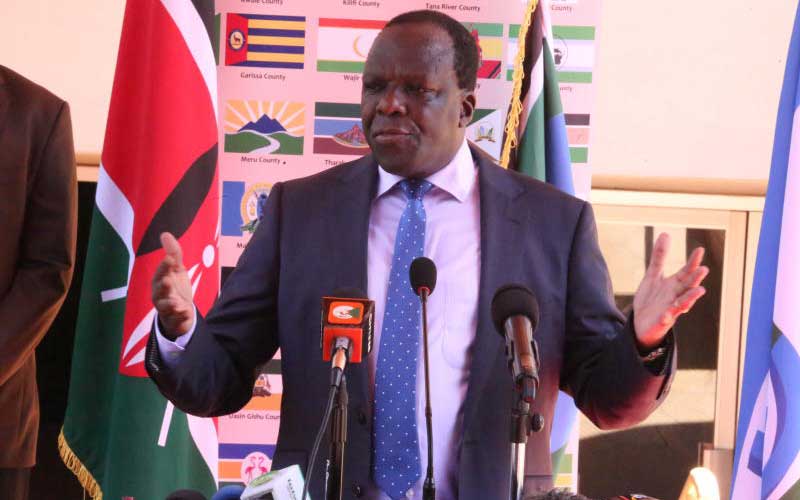 The Council of Governors (CoG) has demanded the immediate disbursement of Sh76 billion owed to counties by the national government.
Governor Wycliffe Oparanya (pictured), the CoG chairman, said the exchequer had only disbursed Sh240 billion of the Sh316 billion allocated to counties in the current financial year that is ending in 27 days' time.
He said the balance ought to have been disbursed to help counties deal with challenges of Covid-19 pandemic as well as floods and locust invasion across the country.
CoG boss said counties in the Western and North Rift regions continue to experience floods causing population displacement and increasing the risk of water-borne diseases and malaria.
According to Oparanya, the lack of disbursement of funds to counties has caused delay of staff salaries.
Border points
CoG also wants trucks stopped from leaving the port of Mombasa until the backlog at the border points is cleared.
The road leading to Malaba border has trucks stretching up to Luandeti, spanning across three counties of Busia, Bungoma and Kakamega.
"We call upon the president to intervene in this matter and propose that no more trucks should be allowed to leave the port of Mombasa until the backlog at the border points is cleared," said Oparanya.
On police brutality, CoG decried the increase in incidents of police brutality while enforcing the curfew.
"Governors and other elected leaders will continue to engage the Ministry of Interior and IPOA to ensure Justice for the victims of police brutality," he said.