Fairmont hotels and resorts dismisses all employees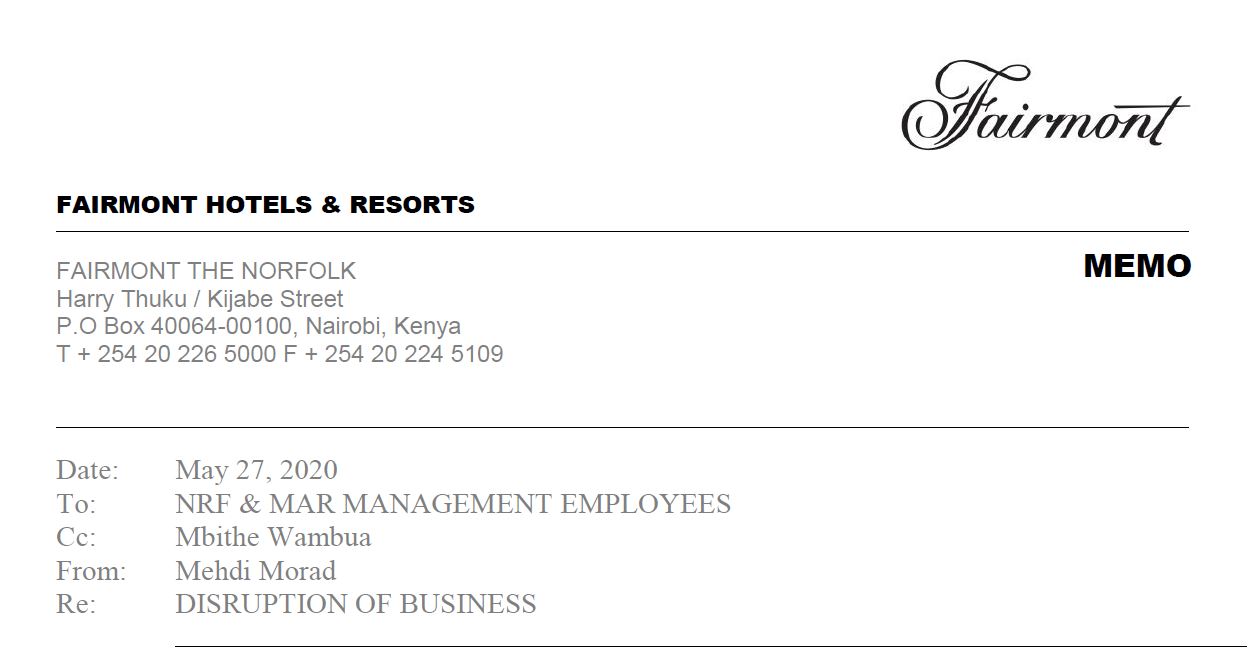 The effects of coronavirus and recent flooding across the country has impacted negatively on Fairmont hotels and resorts business leading to the firing of all its workers.
Fairmont the Norfolk and Fairmont Mara Safari Cub have since ceased their operations as a spiral effect of the COVID-19 pandemic and the recent flooding of Fairmont Mara Safari Club.
"Due to the uncertainty of when and how the impact of the global pandemic will result in the business picking up soon, we are left with no option but to close down the business indefinitely," said Mehdi Morad, Country General Manager.
"It is, therefore, the decision of the management to terminate the services of all its employees due to "frustration" by way of mutual separation and taking into account the loyalty and dedication the employees have put into the success of our company in the previous years," Morad said.
The hotel said the employees will be entitled to one month's pay instead of notice and also access pension benefits as per the rules of the scheme.
Following the Corona press statement dated March 22, 2020 issued by the National Emergency Response Committee under the directive of the Ministry of Health and the Government of Kenya, every Kenyan has since been instructed to stay at home to contain the virus from spreading.

The COVID-19 Pandemic has resulted in a global lockdown, with no movement of visitors into Kenya, which has led to the shutting down of most hotels in Kenya.
Some hotels have resorted to shutting down and suspending operations due to a reduction in the number of guests at the facilities.
Here are some of the hotels that have closed down:
1. Serena Hotels
Serena Hotels has been forced to shut down a total of 10 lodges and camps in Kenya and Tanzania until June 15, 2020. They have 24 properties.
The hotels closed include, Amboseli Serena Safari Lodge, Kilaguni Serena Safari Lodge, Mara Serena Safari Lodge, Serena Mountain Lodge, and Lake Elementatita Serena Camp in Kenya.
In Tanzania, Lake Manyara Serena Saari Lodge, Ngorongoro Serena Safari Lodge, Serengeti Serena Safari Lodge, Kirawira Serena Camp, and Mbuzi Mawe Serena Camp have been closed.
2. Weston Hotel
Weston Hotel also issued a temporary closure notice which began on March 30, 2020 until further notice.
3. Enashipai Resort and Spa
Enashipai Resort and Spa will remain closed from March 27, 2020 until further notice.
4. Ole-Sereni Hotels
Ole-Sereni Hotel and EMARA Ole-Sereni closed its doors on March 24, 2020. The hotels will remain closed until further notice.
5. DusitD2 Nairobi
DusitD2 Nairobi has shut down all its operations including restaurant, bar, meeting, and event reservations among other services.
6. Sopa Lodges
Sopa Lodges has resorted to shutting down four of its lodges in Kenya until further notice.
These are, Amboseli Sopa Lodge and Lake Nakuru Sopa Lodge from March 26, Masai Mara Sopa Lodge from April 1 and Lake Naivasha Sopa Resort from April 15, 2020.
7. White Rhino Hotel
The White Rhino Hotel in Nyeri has also taken a hit and suspended operations from March 27, 2020.
8. Maiyan
Maiyan, in Nanyuki, is not taking any more guests.
9. Sarova Hotels
Sarova Hotels and Resort to cease the management of two lodges within the Taita Hills Wildlife Sanctuary from July.
In a notice, the hotel said it will no longer operate Sarova Taita Hills Game Lodge and Sarova Salt Lick Game Lodge, entities that it has managed for the past 13 years.
A total 123 persons tested positive for the disease from a sample of 3,077, a triple-digit figure compared to what has been the norm, and the highest since the pandemic hit the country on March 12, 2020.