IMF raises Kenya's risk of debt distress to 'high'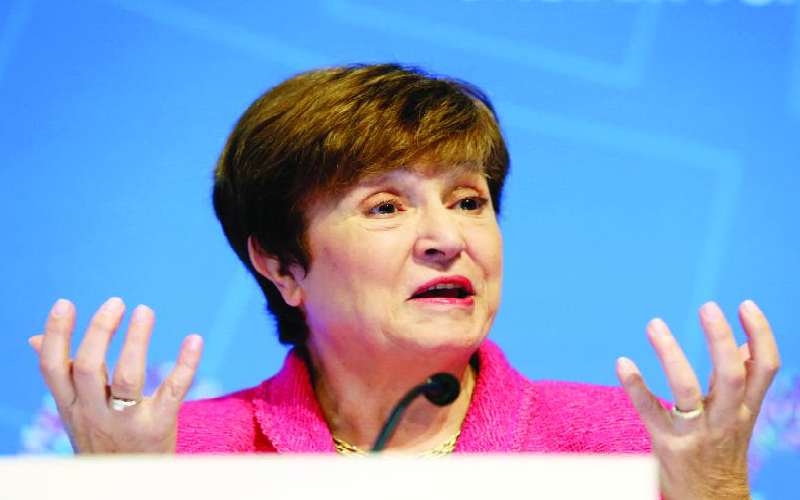 Kenya is likely to default or face problems servicing its ballooning debt due to Covid-19 pandemic, a new report by International Monetary Fund (IMF) has shown.
In its latest country assessment report, the IMF moved Kenya's risk of debt distress – both external and overall – from moderate to 'high.'
"The risk of debt distress has moved to 'high' from 'moderate' due to the impact of the global Covid-19 crisis which exacerbated existing vulnerabilities," the IMF said.
The Bretton Woods institution stated that Covid-19 crisis had sharply cut Kenya's export and economic growth.
This comes a few days after global rating agency Moody's Corporation changed the outlook of Kenya's creditworthiness to negative, citing the country's massive debt obligations.
Public debt currently stands at Sh6.2 trillion or over 61 per cent of the Gross Domestic Product (GDP), driven up by past high deficits and large infrastructure projects, noted the IMF.
It also comes at a time when the country's tax collections are expected to dip due to the pandemic, forcing The Treasury to raise its borrowing target.
The State had early this year estimated the budget deficit at Sh571 billion, which has now been widened to over Sh823 billion. And with almost half of Kenya's public debt owed to external creditors, also affected by the pandemic, borrowing will not be easy.
The Treasury aims to borrow Sh486 billion domestically, amid growing concerns that it would crowd out the private sector. Kenya's domestic public debt stood at 30.2 per cent of GDP at the end of last year, the Fund said.
The Fund noted that most of Kenya's external public debt remains on concessional terms, but warned that "its commercial component has increased."
"Addressing the crisis has required a strong fiscal response from the authorities that have also increased budget deficits. Consequently, a number of debt indicators have worsened," it noted.
The Fund, however, said Kenya's debt "remains sustainable" with debt indicators expected to improve when the global economy rebounds from Covid-19, coupled with fiscal consolidation.
"Kenya's external debt indicators are expected to improve as the authorities are committed to fiscal consolidation and exports are expected to recover after the global shock dissipates and Kenya further unlocks its substantial export potential," the Fund said.
IMF last week approved a Sh78.7 billion loan in a boost to Kenya's war on the Covid-19 but warned the country against forgetting its high debt levels.
The global lender noted that "stable and strong remittances would continue to be key sources of foreign currency receipts and reserves."
IMF encouraged Kenya to strengthen its debt management capacity to prepare for large repayments on commercial borrowing. "As part of this strategy, it is expected that the authorities will have a strategy on near-term external refinancing and over the next years, refinance loans at a longer maturity to limit refinancing risks."
It also urged the country to stick to concessional loans for financing investment projects due to their low costs.