Pay mama mbogas, departing budget boss tells governors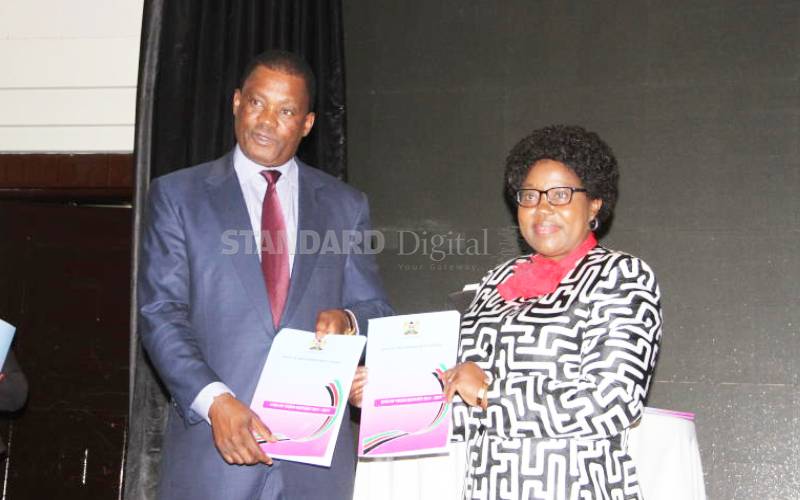 Controller of Budget Agnes Adhiambo has singled out ballooning pending bills as a major challenge to devolution as she exits office after an eight-year stint.
Odhiambo made an emotional plea to counties to pay the bills that have crippled small businesses, including those operated by mama mbogas (greengrocers).
"Small and medium enterprises have died and it pains me at a personal level to see the common mwananchi who's struggling to survive fail to get paid and lose a piece of land or a house," she said yesterday.
Odhiambo was speaking at a Nairobi hotel when she unveiled her end-of-term report and the office's 2018-2022 strategic plan.
"Governors look into this … especially these mama mbogas some of them have supplied goods to the counties, and they have not been paid."
She blasted the counties for making unrealistic budgets hence increases in pending bills.
"County governments should develop realistic own-source revenue target and also align procurement plans and cash flow projections to avoid unfunded commitments," she said in her report.
Odhiambo said the automation of the exchequer release process for the national government was almost complete and would soon be followed by the one for counties.
"The automation process is at an advanced stage in conjunction with the National Treasury... we are waiting to sign the service level agreement and that process will be complete," she said.
Odhiambo at the same time called for the enhancement of budget execution for counties, including the use Kenya Revenue Authority (KRA) to collect revenues on their behalf of counties to seal loopholes.
"Counties are collecting less revenue than their potential, and this is because of poor systems and leakages," she said.
"Counties should consider using KRA to collect taxes on their behalf."
She also urged counties to cut recurrent expenditure and called for better working relationships between county executives and the assemblies.
Hurting counties
Speaking on behalf of governors, Machakos Governor Alfred Mutua hailed Odhiambo for a "successful expedition of the mandate of the controller of budget."
However, Mutua criticised the office for bureaucracy, saying the office had continued to centralise the withdrawal of funds at its headquarters.
"I request to decentralise approval of funds, the officers on the ground are capable of doing the approvals," he said.
Mr Mutua also said the office had been too silent on the current Division of Revenue Bill impasse which was hurting counties.
"The impasse going on and the reality is that nothing is happening in counties in terms of development," he said.
"We were elected to serve and bring development this continued impasse means some counties are shut down especially those that don't have a resource base for revenue collection," he said.
He said that the delay in disbursement of funds to counties would slow down the economy.
National Assembly Speaker Justin Muturi said Odhiambo had set a "robust foundation" for the controller of budget office, adding that her work, especially the reports, was crucial to MPs.
"It is unimaginable for legislature can function without consuming what comes from that office," said Muturi.
He expressed confidence that the new mediation team set up to resolve the impasse on the Division of Revenue Bill would succeed.
Senate Speaker Kenneth Lusaka said counties are spending too much on the wage bill.
He called for a lasting solution to the Division of Revenue Bill impasse.