Lawmakers want State to takeover KQ in revival plan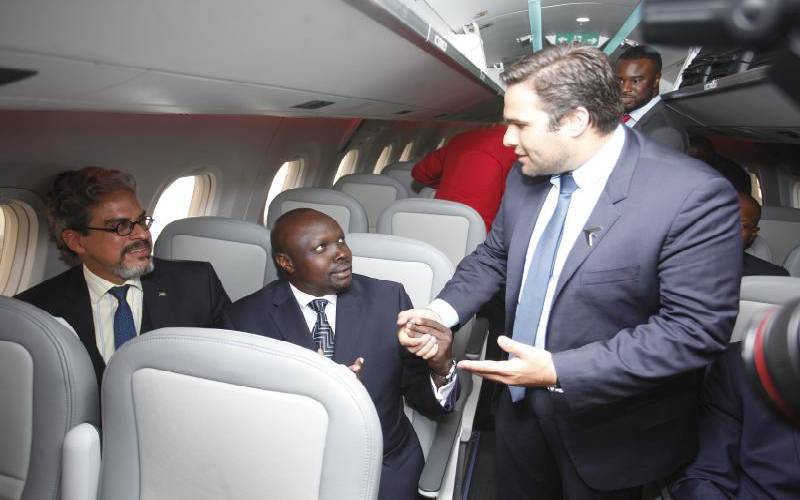 The Government could soon take over ownership of ailing national carrier Kenya Airways (KQ) as it looks to edge out other shareholders.
This is if recommendations by the National Assembly's Transport Committee are adopted in what would push out a consortium of local banks and its long-time partner Royal Dutch Airlines (KLM), among other shareholders.
The committee chaired by Pokot South MP David Pkosing has recommended the nationalising of KQ after several failed attempts at reviving it, including the hiring of outgoing chief executive Sebastian Mikosz.
If the committee's recommendations are adopted by the National Assembly, the Government will be forced to fork out about Sh11.4 billion to buy out the 51.1 per cent worth of shares owned by the other entities.
KQ is currently 48.9 per cent owned by Government, 7.8 per cent by KLM, 38.1 per cent by a group of 10 local banks while KQ employees and other Kenyan investors hold 5.2 per cent.
The local banks -- KCB, CBA, I&M, Chase, National, Co-operative, Diamond Trust, NIC, Ecobank and Equity -- had advanced a Sh17.5 billion loan to the airline. That loan was converted into shares following the restructuring of KQ in 2017.
If the legislators have their way, the airline, in which the Government has a 48.9 per cent shareholding, will be owned by a new aviation holding group that will also own other entities such as the Kenya Airports Authority (KAA).
"The resources of the aviation holding company and any revenue generated from such resources must be utilised for the mutual benefit and development of all its subsidiaries," reads the committee report in part.
The recommendation, though slightly different from what KQ management had proposed, would place it in the same position as its biggest regional rival, Ethiopian Airlines, which is wholly owned by the Government.
The MPs also want KQ to get major tax exemptions, shed off some of its staff as well as a proposal to create a special law to rid it of Government red tape.
The committee also wants the airline, KAA, Jomo Kenyatta International Aviation (JKIA), and a centralised Aviation Services College, which will bring together institutes held by the three agencies, put under the Kenya Aviation Holding Group (KAHG) modelled on the Ethiopian and Egyptian aviation industry.
The airline's stock yesterday traded at Sh3.86 per cent. If its 5.82 million shares were floated, its market capitalisation would stand at Sh22.4 billion.
The committee report is a culmination of a two-week public inquiry last month following KQ's botched bid to take up control of JKIA to boost its dwindling fortunes.
Late last year, it emerged that the Cabinet had given a nod to a deal where KQ would take over running of JKIA under a Privately-Initiated Investment Proposal (PIIP) to help raise its liquidity.
The deal raised uproar among Kenyans and in Parliament, with many questioning how a loss-making private firm would run a profitable government parastatal, whose annual collections stand at about Sh12 billion.
The report recommends that KQ be exempted from paying airport fees as well as fuel and railway levies that it argues that they hold the airline back from making a recovery.
"We want to see the KAHG handle 30 million passengers in the near future from the seven million they are doing now. This will mean more jobs for our youth and billions of money in revenue that will accrue from the passengers' spending," said Pkosing.
If the House endorses the proposals, it will have to make eight legislation, allowing the Government to implement the changes.
Last month, KQ declared a Sh5.9 billion net losses for the year ended December 2018, even though the total revenue for the year grew to Sh114.4 billion compared to Sh80.7 billion in 2017.