Prices of potato rise amid shortage in Nakuru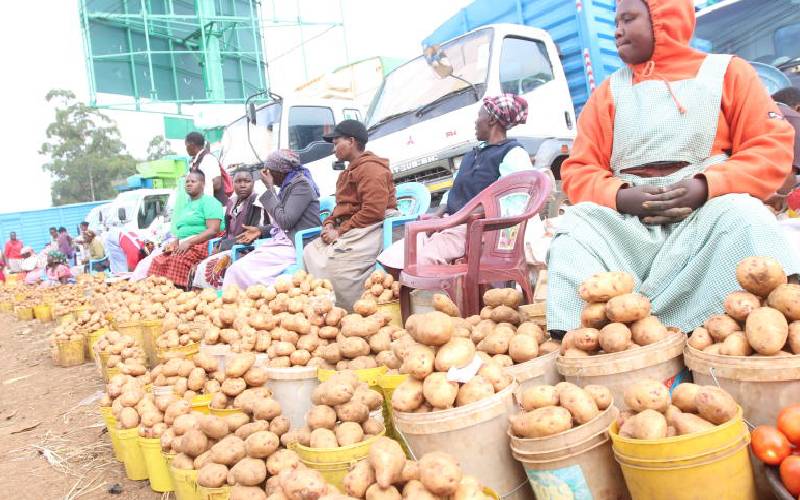 An acute shortage of potatoes has hit Nakuru county, one of the top producers of the crop in the country.
Farmers and traders attribute the shortage to the prolonged dry spell that hit the region between December and May this year.
The shortage has pushed prices to the roof. A bucket of potatoes weighing 20 kilogrammes is selling at between Sh700 and Sh900, up from Sh200.
According to the traders, much of the potato currently in local markets is being imported from Tanzania.
"We are not supplying potatoes to our consumers because of an acute shortage attributed to erratic weather patterns that affected production," said James Mwangi, a potato trader at Muchorwe in Kuresoi.
No business
Another potato trader, Harun Mutito, said he has also not been in business for the past four months.
Mr Mutito, also a potato farmer, has been purchasing the produce in Sirikwa which he supplies to traders and consumers in Kisii.
"I always supply about four lorries of potatoes to Kisii weekly but currently I am not doing this because of an acute shortage," he said.
Abdi Kamau, a farmer at Muchorwe in Molo, said majority of farmers planted the crop in February, anticipating to harvest in April.
However, the rains failed and most of the seeds did not germinate. The few that sprouted quickly withered under the intense sun.
"At this time, we would be harvesting the crop, but weather patterns have changed," said Mr Kamau.
Kenya National Potato Farmers Association chairman Joseph Mwamba said farmers are being trained on better farming technologies. "Most farmers depend on rain-fed agriculture. We are training them on methods that would boost yields irrespective of weather patterns," he said.