Tea companies, workers end four-year wage dispute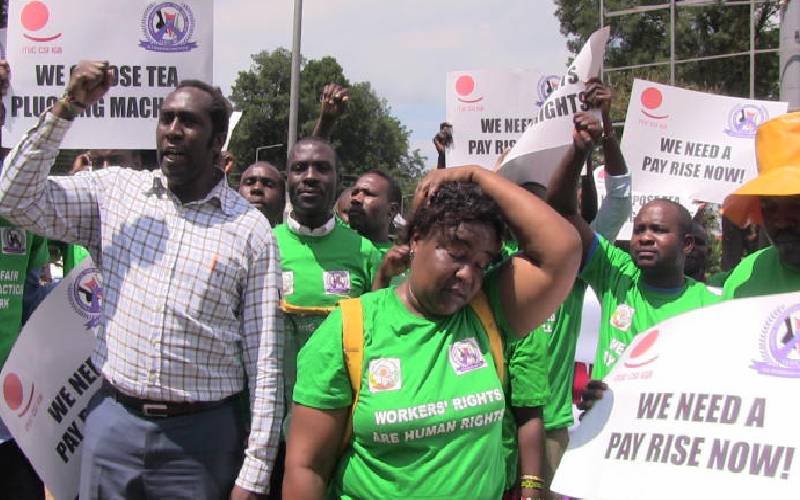 Multinational tea firms have finally ended a four-year salary stalemate with workers which had threatened to cripple the industry through strikes.
In a certificate of agreement seen by Weekend Business and drawn by the Kericho County Labour Officer R. Litaba, who served as the conciliator, the trade dispute revolved around the implementation of Employment and Labour Relations Court Appeal No 5 of 2019.
The issues in dispute between Kenya Plantation and Agricultural Workers Union (KPAWU) and the Kenya Tea Growers Association (KTGA) were wages, gratuity, overtime and transfers.
In the agreement, the tea workers will get a seven per cent salary increment for 2016, eight per cent for 2017 and 2018 and nine per cent for this year.
The workers had initially demanded for 13 per cent increment per year for the four years.
"The agreement means that the current Sh11,775 basic salary for the lowest unionised tea plucker will go up to Sh15,950," said KTGA Chief Executive Apollo Kiarii.
The highest unionised tea worker who currently earns Sh39,620 will now earn Sh53,897.
"What now remains is for the (union) and other stakeholders to support the tea industry because it is one of the key pillars of the economy," said Mr Kiarii.
"We need to be good social partners and support the industry so that we can continue attracting the revenue which is required to sustain out workers and businesses."
KPAWU officials including Deputy General Secretary Thomas Kemboi, Organising Secretary Henry Omasire and those from KTGA led by Chairman Daniel Kirui signed the agreement.