Equity Bank trims staff by 392, workers miss out on share deal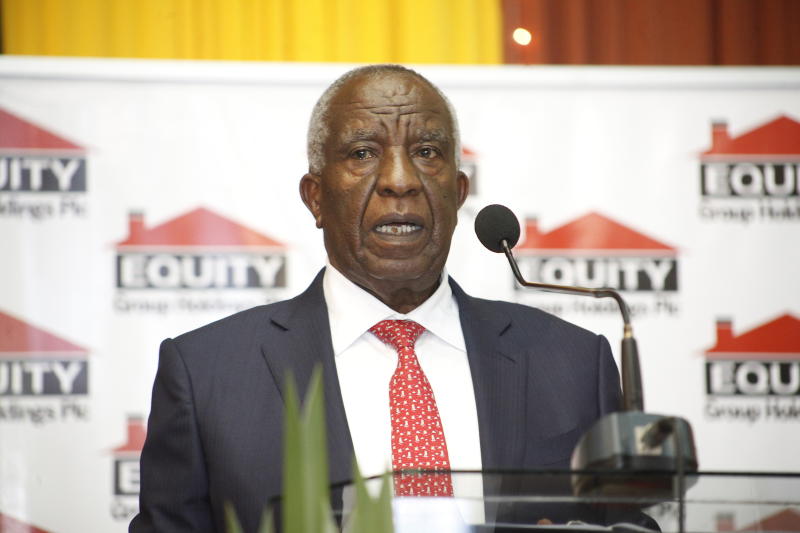 Equity Bank says 392 staffers left the company last year to pursue other interests and their positions were not filled.
Group Chief Executive James Mwangi brushed aside concerns that the bank had fired hundreds of workers, saying a large number of former Equity bank employees have got jobs in county governments.
"When a manager leaves I do not replace him, I promote from within and tell them to go out there and be good ambassadors for the brand. Most of the county finance officers are former Equity Bank staff," Mr Mwangi said at the bank's annual general meeting on Tuesday.
Last year, the lender had 6,710 workers but the number has since dipped to 6,318. The bank's staff costs declined by Sh1 million to Sh11.545 billion.
The staff numbers and costs however may jump significantly as the firm goes on a shopping spree to buy four regional banks from London-listed Atlas Mara.
Acquisition of 62 per cent of Banque Populaire du Rwanda will give Equity bank 1,050 new workers while the African Banking Corporation Tanzania, whose entire stake Equity wants to buy, had 164 workers as at 2017 figures.
African Banking Corporation Zambia has 1,016 employees while the African Banking Corporation Mozambique has 288 staffers.
However, the acquisitions may be subject to consolidation which will trim numbers especially since operational costs had plagued the Atlas Mara subsidiaries.
Meanwhile, Equity Bank's current workers missed out on a Sh8.4 billion share bonus after the lender dropped a resolution to allot stocks to an employee share ownership plan (Esop) in Tuesday's meeting.
Outgoing Chairman Peter Munga skipped the agenda which was set out in the company's annual report and was scheduled for a vote.
The bank had said that subject to regulatory approval, they would establish the Esop of 205.7 million shares amounting to five per cent of the company's issued share capital at Sh40.90 a share as at Tuesday's trading price.
"The agenda has been withdrawn," Mr Munga said when it flashed on the screens.
Instead, Equity shareholders voted on a special resolution to pay Munga Sh50 million for long service to the bank.
Benefit schemes
Munga, the bank's founder who has served in the board for 35 years, presided over his last AGM and has been replaced by David Ansell.
Firms issue shares to employees as part of benefit schemes to reward staff and boost morale within the company.
The company may issue shares directly to employees, allow employees to buy into the shares of the company, often at a discount, or grant its workers an option to buy shares in the company at some future date.
Further, dividends from an Esop by a listed company, when registered with the Kenya Revenue Authority, qualify for tax benefits.
Previously companies including Equity, Safaricom, Kenya Commercial Bank, East African Breweries Limited, Athi River Mining cement, I&M Bank, Housing Finance, Standard Group and Kenol Kobil have all issued employees with discounted shares.