Statehouse: Uhuru didn't ask for SGR extension funds from China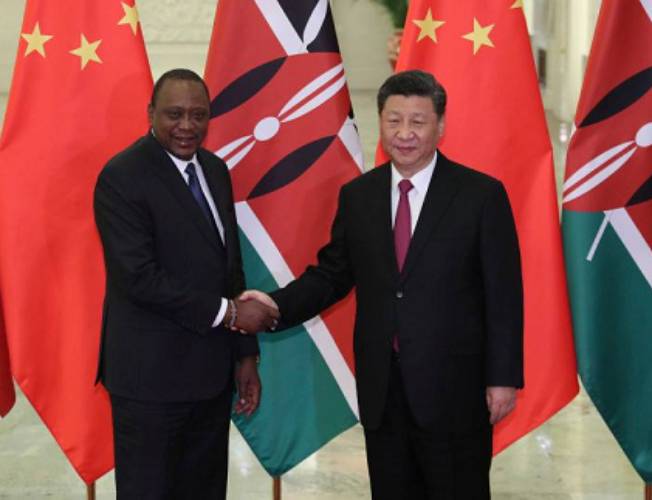 Statehouse has denied media reports that President Uhuru Kenyatta failed to secure Sh365b loan for the extension of Standard Gauge Railway from Naivasha to Kisumu during his recent visit to China saying it was not part of the agenda.
Chief of Staff Nzioka Waita said in a statement, "It is important to note that the question of funding for the extension of the Standard Guage Railway from Naivasha to Kisumu was not on the agenda of the meeting between the two President's."
Mr Nzioka said the agenda of the bilateral meeting between President Kenyatta and China President Xi Jinping which he termed "extremely successful" covered the following areas:
i) The signing of a trade agreement for the export of frozen avocados from Kenya to China which followed the signing of an MoU on Sanitary and Phytosanitary Standards late last year for the export to China from Kenya of various horticultural products.
ii) The signing of a Framework Agreement between the Kenya National Highways Authority and the China Road and Bridge Cooperation for the construction of Kenya's first expressway from Jomo Kenyatta International Airport to Westlands.
iii) The signing of a financing agreement valued at Sh17 billion between Kenya and China EXIM Bank for the construction of the Konza Technopolis Data Center and IT infrastructure.
Mr Nzioka noted that the SGR is a regional project involving several countries and negotiation for its funding could take years.
He said, "The SGR remains an essential project of Kenya's Vision 2030 strategy and a key enabler of regional economic growth within East and Central Africa."
The Chief of Staff said, "As a Pan-Africanist, President Kenyatta remains committed to laying the necessary foundation for the trans-African rail and road infrastructure that will transform intra-African Connectivity and Trade for the economic benefit of over a billion Africans."