Leading supermarket closed to allow probe on safety concerns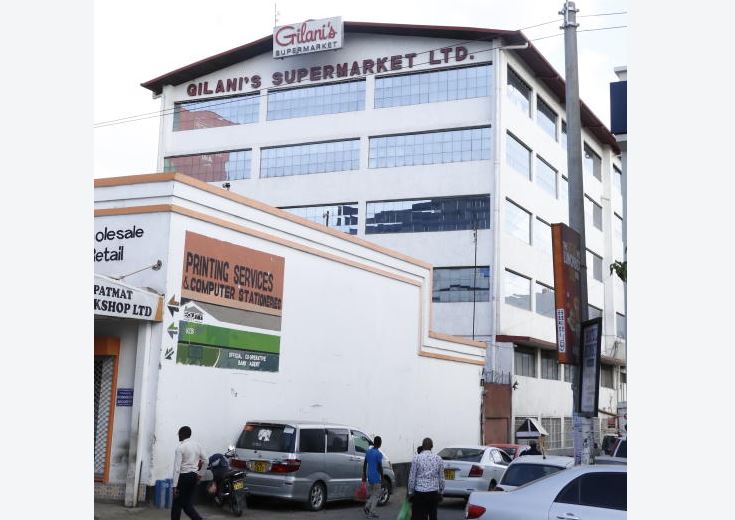 Gilanis Supermarket in Nakuru town's central business district has been shut down indefinitely.
The county administration ordered the supermarket closed on Wednesday evening to allow for an inspection after reports that cracks had developed on the walls of the building.
The Housing and Physical Planning as well as Public Health departments said the closure was prompted by concerns over the safety of the building.
Housing Executive Francis Mwangi and his Public Health colleague, Paul Waititu, said independent government agencies would evaluate the structural integrity of the building.
"We did an inspection on Tuesday and we have several safety concerns; we issued a closure notice for us to be sure that members of public are safe," explained Mr Waititu.
He said both departments would consider reopening the building after receiving reports from the relevant authorities confirming that the building was safe for occupation.
The Housing Department said an initial report from a technical team had flagged several structural issues that needed to be examined by structural engineers.
"In the meantime I have instructed my officers to issue relevant enforcement notices of closure as the matter is sorted out," said Mr Mwangi.
Fighting investors
He explained that the supermarket's closure did not mean that the county was fighting investors.
"We appreciate our investors but matters of safety and security for the public are of great concern. This is why we deemed it fit to have it closed for a few days as the issue is sorted out."
He said a team from the county Lands, Physical Planning and Housing Department would ensure that the notice was adhered to.
Reports of the cracks in the supermarket wall first emerged last month. However, the retailer assured its customers that there was no cause for alarm. "We called in engineers from the county who have confirmed that our building is structurally sound. A thorough assessment of the premises has been conducted," a statement by the supermarket management read.
The management has since issued a notice announcing the closure of the supermarket. "Due to unavoidable circumstances shop will remain closed until further notice."