Why Airtel, Telkom marriage rests on thin foundation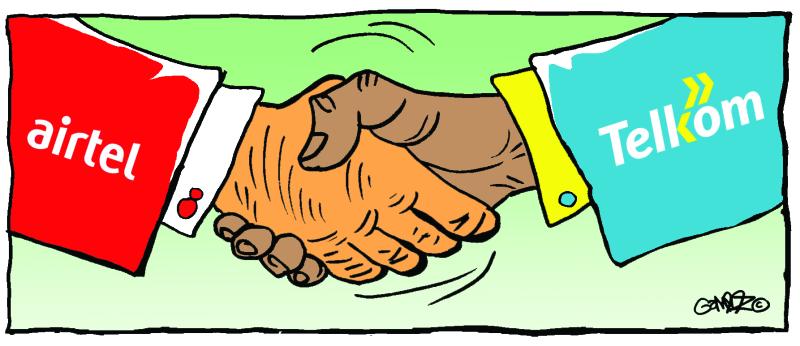 The confirmation of the union of Airtel Kenya and Telkom may have excited the market on Friday but a closer look reveals the future might not be so rosy for the two firms, their consumers and to an extent the industry.
The last time a deal of this magnitude was struck in the country's telecommunications sector was in 2014 when Safaricom and Airtel agreed to snap up Essar Telecom.
Valued at $100 million (Sh10.3 billion at current exchange rates), the deal saw Airtel acquiring the 2.7 million yuMobile subscribers at a cost of $6.9 million (Sh710 million) while Safaricom took up the frequency and phone masts.
In less than two years Airtel had lost virtually all the yuMobile subscribers it had gained, leaving it worse off than it was before the acquisition, in addition to a Sh2 billion legal dispute with the Communications Authority of Kenya (CA) that was only settled last year in the telco's favour.
Safaricom, on the other hand, got to keep Essar's network infrastructure and frequency spectrum while at the same time getting rid of a competitor which, though struggling, was increasingly becoming attractive to young mobile users due to its rock-bottom rates.
Details of the merger announced on Friday indicate that Airtel might have gotten the short end of the stick yet again, casting doubts on the ability of the new entity, Airtel-Telkom, to present a serious challenge for industry leader Safaricom.
While the two entities have presented the deal as a union of equals, when viewed from certain angles, it appears as though it is tipped in favour of Helios – the Telkom Kenya majority owners.
The two firms are yet to give clarity on the shareholding structure with Helios' front man Mugo Kibati serving as the chairman of the board of directors while Airtel's CEO Prasanta Sarma will serve as CEO responsible for the day-to-day business.
In any corporate setting, management usually answers to a board, which represents the interests of the shareholders.
At 14.4 million customers, Airtel-Telkom seems like a stronger competitor to Safaricom than either company standing alone.
However, it will still be playing at a distant second to Safaricom's 30 million-strong subscriber base, not to mention the latter's significant head start in the mobile money, data, e-commerce and enterprise market segments.
And while Airtel has added four million new users to its subscriber base over the past year, these are users who also own a Safaricom line.
With the majority of Kenyan consumers having low incomes and thus limited on how much they can spend on telecommunication needs, Airtel's new subscribers are unlikely to have a significant impact on the firm's bottom line.
In addition to this, Airtel-Telkom will be devoid of many high-valued assets such as critical telecommunication masts, prime land in several counties and valuable contracts with the national and county governments.
Both Telkom and Airtel Kenya have in the past three years stripped off most of their assets, outsourcing critical services and leaving the mobile operators with bare minimums.
In a joint statement announcing the agreement last week, the companies said the merger excluded Telkom Kenya's vast land holding, as well as some of its business agreements that include lucrative contracts to provide the government with network infrastructure and connectivity services.
"Telkom Kenya Limited's real estate portfolio and specific government services will not form part of the combined entity," said the statement.
Speculation has been rife that Telkom's real estate portfolio inherited from its predecessor, Kenya Posts and Telecommunication Corporation will be transferred to a new entity co-owned by Helios Investment Partners and the Government, with the ultimate aim of selling the land.
Lease fees
Besides holding on to the prime land, Helios last year sold the telco's towers to American Towers Corporation (ATC) under a sale-and-leaseback transaction. Telkom Kenya now pays ATC lease fees for using the 723 towers.
Airtel is no better off, having retrenched dozens of "non-core" staff and getting rid of varied infrastructure in the past few years. In 2011, the firm outsourced its customer care and other back office functions to business process outsourcing firm Spanco.
Other functions that were outsourced included its network and engineering section that was transferred to Nokia-Siemens and information technology to IBM.
Again in 2014, Airtel sold its communication masts to UK infrastructure firm Eaton, in a deal where the mobile operator leased the towers back under a 10-year contract. The move was aimed at reducing its expenses. The firm then operated about 1,100 masts.
For Airtel Kenya, this will not be the first time it is signing a deal that will significantly alter its shareholding structure and brand. Over the last two decades, the operator has previously existed as Kencell, Celtel and Zain.
Since its entry in Kenya, India's Bharti Airtel has in many instances floated the idea of exiting the market as well as from a number of other African countries where performance has been disappointing.
Telecoms analyst Peter Wanyonyi says Airtel-Telkom presents a weakened challenger to Safaricom as currently constituted, unless the two can provide the market with new major innovations.
"This is not really a merger. It is a takeover of Telkom Kenya by Airtel, which is backed by money and assets that Telkom Kenya cannot compete against," he said.
"The takeover is testament to Airtel's inability to eat fast enough into Safaricom's dominance of the Kenyan telecom market."
Combined, Airtel-Telkom will have 31.3 per cent of the market.
"This is less than half of the Safaricom market share, which is why Safaricom is unlikely to be unduly concerned by this merger - and why it will not threaten the market leader imminently," says Mr Wanyonyi.
"But there may be more developments in the market, depending on the Airtel-Telkom's strategy going forward."
He says that while there is room for the new Airtel-Telkom to grow, it would be wiser for the two to steer away from trying to outdo Safaricom in areas it has strengthened its hold and instead look to new growth avenues.
"It has traditionally been difficult to attract subscribers to cross from one provider to another in Kenya" he says. "Mobile number portability never really caught on in the market, and the strength - and breadth of service - offered by Safaricom thanks to M-Pesa creates a strong base for retaining customer loyalty."
This explains why many subscribers who might be unhappy with Safaricom's service rarely ditch the mobile subscriber but would rather purchase an extra SIM card from rivals.
"The traditional weakness of Airtel and Telkom has usually been their inability to create value for a customer beyond just basic mobile services and copy-cat money transfer services that do not improve upon M-Pesa," says Wanyonyi.
"Their focus on rivalling Safaricom service-for-service has also been a weakness, since it is obvious that they cannot be 'more Safaricom than Safaricom itself', so to speak. I therefore do not foresee them becoming any more of a threat to Safaricom today than they have been up till now."
This is compounded by the fact that Safaricom has spent an average of Sh25 billion each year for the last five years on building towers, laying fibre optic cable and other network infrastructure to secure market share for the future.