Market establishment targets high-end clients for leisure and business meetings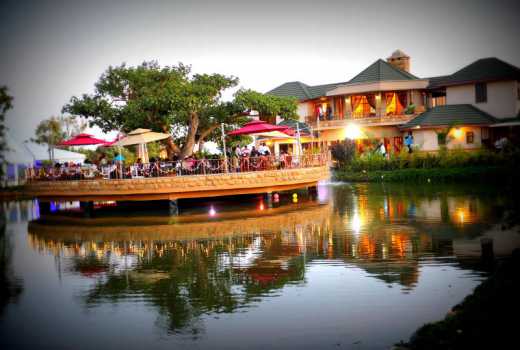 Majority of Kenyans strive for a piece of the country life, without necessarily losing the modern amenities of the city.
Most people will search the breadth of the earth looking for fresh air, water and fresh food.
If you are lucky, the place you will find closest to that idyllic setting is New Rain Hotel - a new getaway on Kenyatta Road, off Thika Road in Kiambu County, on your way to Gatundu.
The place is a whole 12 acres with only one phase (the restaurant) completed. Phase two will include a modern hotel with cottages for accommodation and other amenities such as an indoor gym, swimming pool and spa.
Still, should you visit the place now even for a day, you will not be disappointed.
ABUNDANT SHOWERS
First, the hotel owners are religious - which is encouraging for those who are spiritual. They conceptualised the name of the place with reference to the Bible's book of Joel verse 2:23 in which the Israelites are told to rejoice as God has given them "autumn rains," and sent them "abundant showers, both autumn and spring rains as before."
Officially launched on June 24, 2017, New Rain rose from a long-neglected wasteland to become one of the most serene and exclusive getaways.
"The whole vision was through prayer. When I prayed about the name I got Joel 2:23," says Esther Kibere, the chief executive of New Rain Hotel, which targets the middle-to-high end clientele.
"The original idea was a wellness centre in which people could come and be refreshed by the ambience, fresh food and diverse activities."
New Rain has unbelievably therapeutic countryside greenery, invigorated by the abundance of water. The gazebo, with its well-laid dining tables, is surrounded by a man-made dam and overlooks the playground. It is a breath-taking view.
Its lush gardens offer an ambient environment for weddings, team building, conferences, outdoor excursions, parties and various social functions.
But its fresh food policy is that makes New Rain exquisite. Today, New Rain is perhaps the only hotel where guests eat what they see grow. Most food here is served fresh from the garden.
The hotel serves a vast African and continental menu with an extensive array of creative organic dishes.
"The farm-to-plate concept is our eventual goal," says Ms Kibere, a former lecturer at Kenyatta University before quitting in 2015 to go into business.
Organic foods are grown without chemical additives such as pesticides and fertilisers, thus protecting customers from harmful effects.
Most juices served at the restaurant are made from fruits grown on its farm. This is the same with vegetables and animals including goats, sheep, chicken and turkeys that provide various products and meat.
CREATIVE DISHES
A creative barista who serves a wide variety of healthy and decadent smoothies and coffees complements the creative and tasty dishes.
The business is run by Kibere with assistance from family members.
There is a boating dam for those who love kayaking or boating, a jogging track and bicycles for hire. The conference room is currently being refurbished to become an executive meeting room.
"We have various activities such as cycling, jogging and boating," says Kibere.
Also under construction is a tennis court, an outdoor gym and spa, bouncing and climbing castles for children.
In the second phase, the hotel wants to woo more corporates and families for meetings. It is building a conference block that will house administration offices, nine meeting rooms with total capacity of 690.
Beyond the conference block, New Rain will also have 17 detached cottages, each with four rooms.