Agony for families as NHIF downgrades medical cover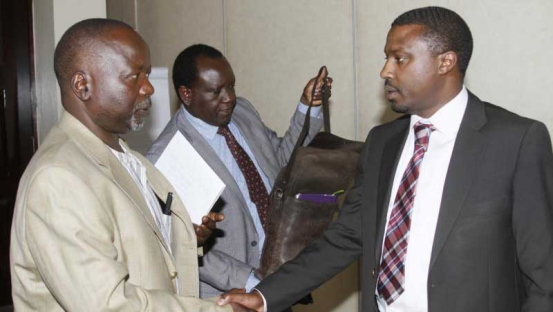 Families are staring at huge medical bills as the National Hospital Insurance Fund (NHIF) rolls out downgraded health cover.
The cover will now pay for only four outpatient hospital visits in a year.
In what is turning out to be giving with one hand and taking away with the other, NHIF will now allow its members to seek outpatient services from any accredited hospital of their choice but limited to four visits as opposed to any time they fall sick.
This means that for a family of four who depend on one membership card, NHIF will only cater for one outpatient service for each in an entire 12-month period. Yesterday, Kenyans on social media woke up to shower praises on the fund for having scrapped the requirement for members to choose a particular hospital in advance from where they could seek outpatient services.
NHIF Chief Executive Geoffrey Mwangi said the change will ensure contributors access primary healthcare at any accredited hospital countrywide.
"Initially, if members had chosen a facility that does not operate 24 hours, they could not access services. The effected changes will see members access the services at any time of the day from any NHIF-accredited facility," he said at a press briefing in Nairobi yesterday.
While this appears good news for families who encounter sickness while far from their chosen health facility, the details of the new arrangement now appear to be a poisoned chalice.
The NHIF boss emphasised that one card will only serve up to four hospital visits in 12 months, meaning that its more than 6.5 million members may be forced to foot a large part of the bills from their pockets.
"We are also dealing with fraud. It is more beneficial to put it at four visits per card each year so that we can curb healthcare fraud, wastage and abuse of health financing resources," said Mr Mwangi.
Up and running
Workers informal sectors contribute to the fund between Sh150 and Sh1,700 monthly depending on their salary, while the self-employed pay Sh500. From this, NHIF receives above Sh3 billion per month.
NHIF has also not disclosed the arrangement it will make for members who are suffering from chronic ailments that require regular attention, such as dialysis. The fund only said it is working on their medical package whose details will be made available soon. Yesterday, officials from Kenya Association of Private Hospitals (KAPH), who held a meeting with the NHIF officials at the same venue, expressed the need for more consultations.
KAPH Secretary-General Timothy Olweny said a majority of its members decided to get details of the NHIF offer first before signing up. As at yesterday, about 1,000 hospitals had signed up, according to Mr Mwangi. This is even as NHIF confidently said the service was up and running.
KAPH Treasurer George Rae said the move to cap hospital visits may see many patients shy away from hospital and only seek services at critical stages.
Once members exhaust their allowed outpatient visits, hospitals will block their NHIF card, leaving them with just inpatient service unless they have money to pay. "When you restrict access to medical care, there will be reduced early diagnosis," warned Dr Rae.