Co-op Bank seeks to diversify income as rate cap bites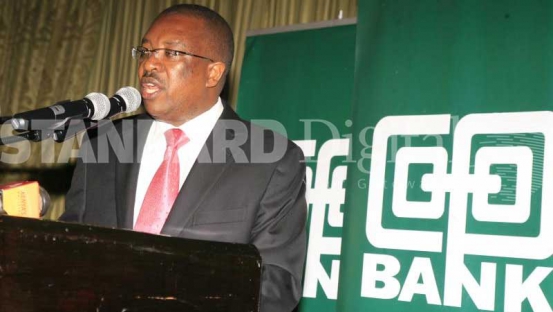 The Co-operative Bank has received regulatory approval to enter into a leasing business joint venture with a South African firm.
The lender has partnered with Super Group Limited to offer leased equipment in exploration, infrastructure, manufacturing, construction, transport, and information technology.
"Super Group Limited is an established global leader in leasing business based in South Africa with a market capitalisation of over $967 million (Sh99.97 billion) and operating in five countries globally," Co-operative Bank Group Managing Director and Chief Executive Officer Gideon Muriuki said when the lender released its half-year financial results on Thursday.
The bank, whose net profit dropped by 10.81 per cent from Sh7.4 billion to Sh6.6 billion in the first six months of this year, wants to diversify revenue streams in a tight operating environment with the capping of interest rates. The rate cap has pinned interest rates charged on loans at 4 percentage points above the Central Bank rate, which currently stands at 10 per cent.
Co-op Bank grew its loan book by Sh31.3 billion to Sh252.6 billion compared to Sh221.3 billion in the same period last year. Although the lender increased loans during the period under review by 14.2 per cent, total interest income reduced by 10.3 per cent from Sh21.47 billion in the second quarter of 2016 to Sh19.26 billion this year. However, interest on loans and advances declined by 9 per cent.
Co-operative movement
Muriuki said the lender has put in place strategies intended to sustain long-term profitability. He added that with the strategies, the lender has seen its cost to income ratio improve from 52.1 per cent as at December 2016 to 47.9 per cent in the half-year of 2017.
The bank wants to leverage on the Government's appetite for leased equipment such as supply of motor vehicles as well as the co-operative movement, with more than 14 million customers and more than 22,000 co-operative societies. "The joint venture is expected to substantially boost the bank's strategy of diversifying revenues and is being operationalised immediately," Muriuki said.
The income the lender makes outside interest charged on loans including foreign exchange trade increased by 28 per cent to Sh1.24 billion and fees and commissions increased by 3.5 per cent to Sh3.89 billion. Fees and commissions charged on loans also increased by 14.3 per cent from Sh1.2 billion to Sh1.37 billion.
The rate cap law had a silver lining as it reduced the expense on deposits by 17 per cent to record interest expense of Sh5.84 billion from Sh7 billion in the half-year of 2016. This is despite an increase in customer deposits by Sh7.6 billion to post deposits worth Sh285.7 billion that traditionally adds to the cost of funds.
The rate cap law set a floor on rates charged on savings at 70 per cent of CBR, allowing banks to reduce rates offered to cash managers and relegate deposit accounts to transactional accounts that do not attract interest.