Why the current food prices crisis is man made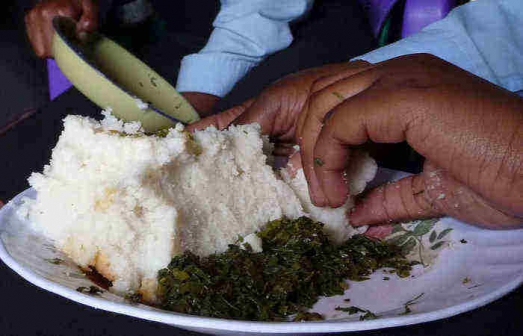 The high cost of staple foods – maize flour, milk, potatoes and most green vegetables – has hit family budgets hard in the past few months, particularly low income families who already spend half or more of their income on food.
Data from the Kenya National Bureau of Statistics (KNBS) shows that the cost of food increased by almost 21 per cent in April, on account of poor rains towards at the end of last year. The last time food prices spiked this dramatically in Kenya was nearly six years ago, in 2011 when food price inflation reached an all time high of 26.2 per cent.
That time, a biting drought was partly to blame – the Horn of Africa had suffered its worst drought in six decades. The drought only marginally affected Kenya's crop agricultural production, but devastated communities that depend on livestock, especially in northern Kenya.
In response, the "Kenyans for Kenya" initiative saw charity contributions by corporate organisations and thousands of small donations raise Sh1 billion in just a matter of months for famine relief in Turkana.
But drought was not all that pushed up food prices that high. In 2011, the Arab spring protests rocked North Africa and many of the Gulf states. It may have been lost in the narrative since, but food prices were a key demand of initial protesters in Cairo's Tahrir Square.
The international price of wheat, which is the basic staple in North Africa had spiked owing to crop failure in Russia and Ukraine. Egypt is the world's biggest importer of wheat, and in 2010, a drought in Russia – Egypt's main supplier of wheat – had killed 40 per cent of the wheat harvest.
North African governments largely subsidise the price of wheat, but even that wasn't enough to keep the prices down. The Food Price Index had been rising since the beginning of 2009, and by the time it peaked in February 2011, the index had registered a 68.3 per cent increase.
The Cereals Price Index rose an even sharper 75.5 per cent, from a low in June 2010 to a high in April 2011.
With that, masses took to the streets demanding bread, and the protests spiraled into a wider movement pressing for political and economic change. Global prices of maize too, were affected that year, and Kenya's food deficit had to be met through expensive imports of maize, with global prices increasing from a nine-month average of $167 (Sh17,267) per metric tonne in 2010 to $299 (Sh30,916) in 2011.
Distortions
But Kenyans ended up paying up to $530 (Sh54,802) per metric tonne of maize, nearly double the international price, due to additional policy distortions that disrupted the domestic food market.
The political uncertainty also meant that global prices of crude oil rose that year by nearly 40 per cent, which meant that Kenya's oil import bill also rose 42.2 per cent.
And an economic slowdown in Europe created uncertainty in the global markets: Europe is the main market for Kenya's horticulture, and the third destination for tea. With fewer exports to Europe – along with the crisis in the Arab world, another significant destination for Kenyan-grown tea – Kenya had less money to pay for its now spiralling food and fuel costs.
With that, a perfect storm was created: the shilling lost 20 per cent of its value in a matter of months, and food prices hit the roof to touch all-time high food inflation rate of 26.2 per cent.
This year, drought is the common factor with that dramatic time from six years ago.
Last year, the March to June rains in eastern Africa were poor. In some places, especially at the coastal areas of Lamu, Tana River and Kilifi, it was the driest year in 36 years, data from the Famine Early Warning System Network (FEWS-Net) shows.
The same goes for north-central Kenya – Samburu, Laikipia, Isiolo and Marsabit – as well as Migori, Homa Bay, Kisumu, Siaya Vihiga and Bungoma, for which 2016 was exceptionally dry, among the driest years on record for these areas.
The early warning system classified crop conditions as "failure" in coastal Kenya, and "poor" for the rest of Kenya. But unlike six years ago, the international prices of maize, wheat and fuel are low, and in fact have been subdued for the past two years.
Maize prices in the global markets today range from $160 - $170 (Sh16,544 - 17,578) per metric tonne, down from $180 - $210 (Sh18,612 - 21,714) this time last year. The same goes for wheat, which is now at about $190 (Sh19,646) per metric tonne, a slow but steady decline from about $230 (Sh23,782) two years ago.
The global price of crude oil started to tank dramatically about two and a half years ago, from $104 in June 2014 when the run started. Over the past year, global crude has hovered between $29 and $54 a barrel, a price decline of 50 to 70 per cent.
And the Kenya shilling has remained stable over the past two years, at about Sh100 to the dollar.
Arbitrage and Brokerage
This lends credence to the argument that today's food price crisis is entirely man-made, and likely fuelled by well-connected, corrupt networks that make huge profits from arbitrage, brokerage and other "activities of the intermediary type."
The hardest hit are undoubtedly poor families, but even their precarious situation is often not well articulated – or understood. Data from a flagship report from Financial Sector Deepening Kenya (FSD-Kenya) on the financial lives of Kenya's poor describes how close to the margins most Kenyans live, with dramatic income fluctuations month-to-month.
In the first place, they found that traditional ways of stating the poverty line – like Sh200 per day – mask the fact that no one literally earns or spends Sh200 per day. Instead, ends are made from a much more complicated underlying pattern, where income is pieced together from multiple sources to try and construct a bigger whole.
The typical family in the study had 10 separate income streams, with frequent income-earning strategies throughout the project, moving between, for example, running businesses and picking up casual work.
The researchers found that at the median, household income fluctuated 55 per cent from month to month, an "extreme" amount of variation, they say.
The study found that median expenditure for an entire household is about Sh6,000. Per capita, it works out spending Sh2,880 on food. If income in this month fluctuates downwards by 50 per cent, either new money must be found from savings, borrowing, soliciting the social network or making cuts.
"Fifty per cent is a lot," the report states, "if the median household reduced all spending equally in a contraction of 50 per cent, it would be spending just Sh1,440 per capita on food per month," – literally cutting the food budget by half.
This applied to both rural and urban households, but rural households were supported by remittances from family and friends working in towns.
Volatility
Without these remittances, income fluctuations in rural households were much higher, at 64 per cent. Volatility doesn't necessarily mean losses, but both upwards and downwards movement – in other words, uncertainty.
Looking at spending across the sample, three categories of spending – food, housing and education – account for 71 per cent of the median household's budget.
In the context of high income uncertainty, it is very difficult to cope if unexpected expenses arise, like medical expenses. And many times, the margins are so close that as little as Sh20 makes a difference.
An example is Catherine, quoted in the report, who was sick with high fever and a headache but her father could not afford to take her to hospital. Instead, he borrowed Sh10 (just 0.2 per cent of his monthly income) from a friend and bought her Mara Moja, an over-the-counter painkiller.
Another respondent, Christine, needed Sh70 (1.7 per cent of her monthly income) for medication to treat her malaria but didn't have the money on hand and postponed treatment for two weeks. In the meantime, her son developed malaria as well, bringing the total cost to Sh150 when the two were finally treated.
Other times, the trade-offs are even more dramatic. FSD describes the tragic story of Sandra, who was making use of the Government's free antenatal care to have regular checkups. Late in the pregnancy, she became anemic and was sent to a referral hospital.
She was told she needed a blood transfusion to carry her baby to term. It would cost Sh50,000. She and her husband didn't have the cash on hand.
"Her husband didn't feel like there was a clear case for going to extraordinary measures to get it," the report states. "Instead, Sandra went home and miscarried at seven months. She had to be hospitalised after the miscarriage, with the bill coming to Sh45,000.
"They had to sell their only cow and withdraw all of their savings to clear the bill. Her husband stayed home from work for a month caring for his wife as she recovered physically and emotionally."
These cases are by no means unique. Such extreme precariousness is the daily reality for the majority of Kenyans who are forced to make hard – and painful – choices every day.
In this context, even a small increase in food prices costs lives, not from starvation, but from forgone opportunities, delayed treatment and mental anguish. It's a cost that is paid for in real human lives every day.
- The writer is the executive editor of Africa data visualiser and explainer site Africapedia.com