Companies get Sh1.5b contract to transport Turkana oil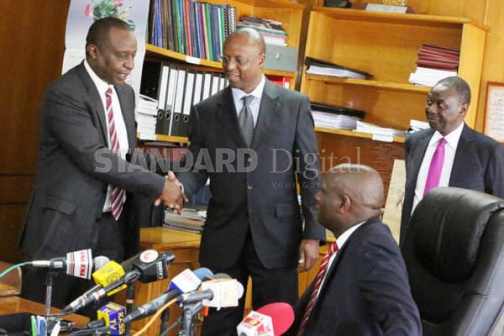 Three firms have been awarded contracts with a combined value of Sh1.5 billion to transport crude oil from Turkana to Mombasa for the early oil pilot scheme.
Prime Fuels Kenya, Multiple Hauliers and Oilfield Movers – are expected to commence the movement of cargo by road in the third week of this month. Prime Fuels will supply specialised tanktainers that will hold the oil while Multiple Hauliers and Oilfield Movers will supply trucks.
They will deliver the oil to the Kenya Petroleum Refineries Limited (KPRL) that already has a storage agreement.
The three-year contracts have been awarded by Tullow Oil, which has partnered with Maersk and Africa Oil in the Lokichar oil project.
Kenyan oil is expected to leave Mombasa by ship mid-June, but the Government and its joint venture partners are yet to settle on the buyers.
Petroleum Principal Secretary Andrew Kamau said KPRL has completed refurbishing tanks to hold the oil once it arrives in Mombasa before it is loaded onto ships for export.
"The contracts have been awarded and they will begin moving crude oil from Turkana to Mombasa mid-May.
Deplorable state
"Everything is in place now including the storage and offloading facilities at KPRL...we should be able to see the first ship leave between June 15 and 26," he said.
The early oil programme is expected to be in place over the next three years, with an estimated production of 2,000 barrels a day.
It is a precursor to the full field development, where Kenya is in plans to build a pipeline from Turkana to Lamu by 2020. Exports will be through the planned Lamu Port. In a statement issued last week, Tullow said it would start production of the 2,000 barrels a day in the fourth quarter of this year.
The transport companies that have been contracted will start by moving about 60,000 barrels that Tullow Oil has already produced and stored in Lokichar.
They will have a tough assignment of moving crude over 1,000 kilometres..
In addition, the firms will have to deal with a 260-kilometre stretch of road from Lokichar to Kitale that is in deplorable state.
Water transport is usually the most preferred means of moving oil, then rail, while road is usually the least desirable.
A recent Ministry of Energy report notes that there is also need to have more security, health and environment safety investment because of risks such as oil spills.
Sanlam eases fears over election
Financial services firm Sanlam Kenya has shrugged off fears that the August General Election may impact negatively on its business.