Which way for Kenya's highly hyped Silicon Savannah?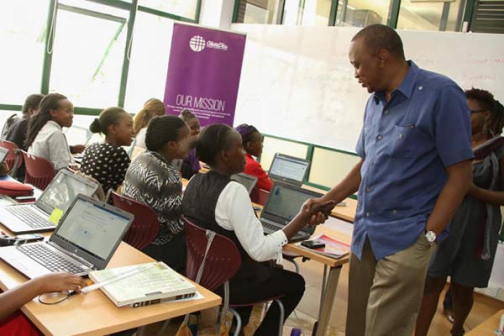 Six years ago, Kenya created the image that was on the verge of pulling off an innovation miracle.
From an era of fixed telephone lines and satellite technology, Kenyan Internet users found themselves in the middle of the third digital revolution—leading the world by far in adoption of mobile connectivity.
An "App economy" soon sprang punctuated by regularised technology conferences, meet-ups and competitions with gleaming trophies and cash hauls funded by the biggest names in global tech.
Nervous, idealistic young programmers coaxed each other out of their homes and schools clustering around what British newspaper, The Economist, later called Africa's Silicon Savannah.
The Government allowed the emerging tech scene a long leash with regulators like the Central Bank of Kenya rending free rein to mobile-phone company Safaricom to stretch the muscle of its mobile money transfer service M-Pesa.
Kenya was set to become an African ICT hub; a Business Processing Outpost rivalling India, China and Malaysia with ICT economic-related activities angled to create 180,000 jobs and some Sh480 billion annually by last year.
A different reality exists six years later. A decline in Kenya's startup scene now threatens the country's economic clout in the region upending the creative and economic potential of millions of young people.
On one hand, figures of annual investment deals involving Kenyan startups in the last three years present a picture of health.
Disrupt Africa, a website that monitors Africa's startup ecosystem, last year revealed that Kenya's technology startups chalked more than Sh4.7 billion ($43 million) in funding from several investment calls.
Kenyan startups received the third largest funding in Africa after South Africa and Nigeria with the big bucks going into renewable energy, financial payments and cloud computing.
On the other hand, however, the 2016 edition of The Economic Survey published by the statistics office indicates a 14 per cent drop in the value created between the output and intermediate consumption of ICT commodities.
In addition, Nairobi's allure as a regional ICT powerhouse has been usurped by recent entrants led by Lagos, Johannesburg and Kigali.
Last week, Africa's technology startup launch pad Demo Africa announced the beginning of its sixth season revealing Kenyan startups, which once led the pack, are now trailing behind regional heavyweights Nigeria.
This years' circuit kicked off in Nairobi and will see innovation tours held in 14 African cities before it ends up in Johannesburg, South Africa at an entrepreneurship summit in September.
Event convener and long-term startup consultant Harry Hare explains that in the last five years, 180 startups from across the continent have launched at Demo and raised about $64 million (Sh6.4 billion) in local and international investment.
"The number is actually higher if you take into account several companies, especially in South Africa that are not at liberty to reveal the value of investments they have attracted owing to signing non-disclosure agreements," he explained.
Nigeria dominated the list, taking up 20 per cent of the startups with Kenya and South Africa tied at a distant second taking up 10 per cent.
Mr Hare, however, states that Nairobi has not entirely lost its shine as an ICT investment hub despite the perceptions of a slowdown in the sector.
LOST SOME MOMENTUM
"I do not think that it is entirely hyped because investing in technology is like investing in any other industry where there is a particular risk involved," he explains.
The challenge is that traditional investors would opt for the more familiar risk vehicles like capital markets and real estate because of fear of the unknown.
Mr Hare further states that the Government also has a large part to play in supporting entrepreneurs that fall between the early start-up stage and scaling up to growth and profitability.
"We get an average of 800 applications each year but we are only able to support 30 while the rest fall off the radar despite the fact that some are brilliant and have valid ideas," he said. Hare adds: "We also lost some momentum when we had a regime change and some of the people who were drivers of the digital vision left office".
Digital Kenya, a book published in December 2016 by Palgrave Macmillan, seeks to make sense of the next phase of the country's ICT industry growth.
Chapter 8 of the 518-page open source text is a study conducted by German tech researcher Johannes Ulrich Bramann. It specifically delves into Kenya's digital startup space.
The study involved interviewing startup founders and investors on their perceptions and experiences to draw a picture of the startup ecosystem in the country.
The country's startups were found to suffer challenges typical to other entrepreneurs but lack of experience among cautious and traditional investors' compounds these issues and stymie traction and growth. "First, the local context seemed to be characterised by institutionalised low trust," explains Mr Johannes of his findings.
"Respondents mentioned a strong fear of being defrauded by business partners, because of little trust in other people's integrity, in the enforcement of contracts, and in weak national legal institutions."
This institutionalised low-trust environment is said to discourage the decision to start up a venture.
In addition, Kenya's cultural norms which requires one to provide for the extended family was said to exert considerable strain on startup founders thus limiting their threshold for risk.
"Respondents indicated that family members in the local context were often expected to generate support in the form of financing, jobs and connections for a wide array of other family members," the study.
The need to provide a stable flow of resources to one's extended family increases the appeal of corporate job positions and decreases the entrepreneur's tolerance for risk and ability to forgo profits in the early venturing phases.
SKILLED POOL OF TALENT
Besides the environmental conditions, startups were also found to be their own enemy of progress owing to weak leadership structures and lack of business acumen.
After five years of exploring various avenues and models of building successful businesses based on technology, startup founders and CEOs have to stop and take stock of the future course of the country's digital economy.
Startups are supposed to be the silver bullet to the country's unemployment challenge by building a skilled pool of talent from which the economy will rely on to drive a knowledge-based economy.
To succeed, startups need to look beyond hackathons and competitions and give the market original ideas that can be adopted locally and exported to the rest of the world.
KRA wants Migori gold miner to pay more taxes
"The Kenyan Revenue Authority has conducted a preliminary enquiry on the tax affairs of Kilimapesa Gold (Pty) Limited which may result in additional tax liabilities. The directors remain confident of a favourable outcome," said Goldplat Chief Executive, Gerard Kisbey-Green in the company's annual report for the year to June 30, 2016.