Sh15b Kinangop wind farm yet to find buyer for its assets after investor exit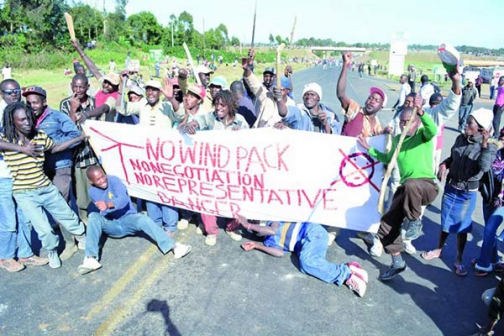 Assets bought for the Kinangop Wind Park (KWP) have been lying idle since key investors bolted in February last year.
The company, which is under receivership, put up for sale all the assets bought for the Sh15 billion project in June 2016, but is yet to identify a suitable buyer.
Among the items up for sale are 38 wind turbine generators and other accessories. Each turbine has the capacity to generate 1.6 megawatts (MW) and consists of, among other parts, three blades, three tower sections and a transformer.
PERMITS AND APPROVALS
In a fresh attempt to revive the project that was choked by financial and operational challenges, the receiver managers are now looking for an investor to buy the assets and put up a 60.8 MW power plant at the site.
In an advert published in the dailies yesterday, the joint receiver managers promised to assist the successful buyer to set up the wind power project.
"The receivers have sought the assistance of the Government of Kenya, which has indicated its willingness to facilitate the grant of the relevant Power Purchase Agreement (PPA) and related permits and approvals required for successful implementation of the project," the advert read.
The offer from the receiver managers comes on the heels of the Government setting up a multi-sectoral task force to review all PPAs and abandon expensive ones.
Until this process is complete, Energy and Petroleum Cabinet Secretary Charles Keter told the press in November that it had suspended processing of any expressions of interest (EOIs) under the feed-in tariff policy until the task force has finalised its work.
The fresh call for interested buyers is a departure from an earlier EOI that required bidders to just buy the assets.
In the fresh bid, one of the conditions is that the interested party must be prepared to complete the project.
According to the receiver managers, the call for a new EOI supersedes all the previous ones that had been received by the end of June last year.
PURCHASE OFFERS
Under the new arrangement, they want to receive bids by February 17, which will be followed by pre-qualified bidders inspecting the assets, carrying out due diligence and submitting purchase offers.
KWP was being backed by Norway-based private equity firm Norfund, South African asset manager Old Mutual and Swedish fund Macquarie.
In February, when announcing the decision to abandon the project, the then CEO James Wakaba said since May 2014, KWP and its shareholders had invested Sh6.6 billion in the wind farm.
But the ambitious project would later got entangled in land compensation rows with locals, who also claimed the turbines would endanger their lives.
Kenyan airspace certified safe by ICAO standards
Kenya Civil Aviation Authority (KCAA) Director General Gilbert Kibe made the announcement at a workshop attended 60 Common Market for Eastern and Southern Africa (Comesa) delegates in Naivasha yesterday.