Kenya Tourism Board confident of tourism sector growth despite polls fever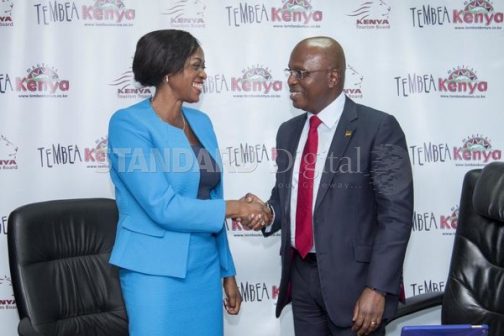 Kenya Tourism Board (KTB) is confident of sustaining the sector's growth momentum from last year despite 2017 being an election year.
Past elections have always dampened prospects for the industry, with heightened political noise resulting in reduced tourists to the country and a decline in industry revenues.
KTB Chief Executive Betty Radier said the industry is expected to sustain the recovery experienced in 2016.
She said the marketing agency and the Ministry of Tourism had put in place mechanisms to ensure continued growth even in the face of what is expected to be a hotly contested general election.
These include a unique repackaging and intense marketing of the country in different tourist source markets and increased security to reassure prospective visitors. KTB is also banking on the growing domestic tourism.
"We are evaluating the country's tourism products to determine strategic advantages and destination package differentiation opportunities," said Dr Radier.
"There has also been an increase in tourism consumption from the domestic market. Kenyans are now discovering and exploring their country beyond the beach product."
In 2016, the industry appears to have turned the corner after four years of decline. In the nine months to September, tourist arrivals to Kenya stood at 983,876, a 12 per cent growth compared to 874,544 tourists over a similar period in 2015.
In September last year alone, the country received over 2,400 cruise tourists.
"The Kenyan tourism recovery trajectory indicates a steady momentum. We project more cruise ships calling at the port of Mombasa and increasing bed occupancy across international and domestic tourism. We have also noted an increasing destination interest from traditional and non-traditional source markets," said Dr Radier.
The industry had from 2012 experienced challenging years occasioned by a series of terrorism attacks. These resulted in key source markets including the UK and US warning their citizens against travel to Kenya, which in turn saw a decline in visitor numbers and industry earnings.
Data from Kenya National Bureau of Statistics (KNBS) shows tourism earnings declined to Sh84.6 billion in 2015, from Sh87 billion a year earlier. Earnings have declined over the years from Sh97 billion in 2011. Arrivals went down to 1.18 million visitors in 2015 from 1.35 million in 2014.