Hoteliers bet on religious tourism to boost earnings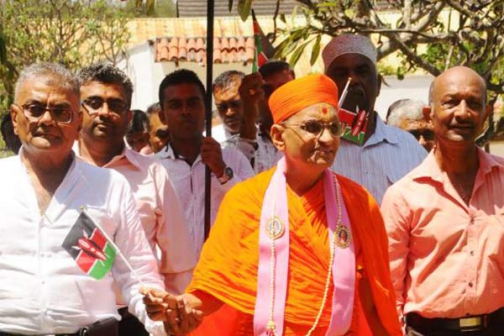 Statistics indicate that religious tourism or travel is estimated at a value of $18 billion, with 300 million travellers visiting religious sites.
It is for this reason that tourism players are keen on having the ministry's recovery strategy encompass religious tourism. The Kenya Association of Hotel Keepers and Caterers (KAHC ) says both religious and medical tourism are emerging sectors that can be exploited.
"This is a product that can easily be tapped domestically, considering that Kenyans are very religious people. Shrines still exist in Coastal Kenya as well as Central and Western regions. Given our constitutional freedom of worship, adequate infrastructure around worship centres can be developed to support tourism," said KAHC Chief Executive Officer Sam Ikwaye.
PILGRIMS
Ikwaye said Buddhists and other religious leaders have visited Kenya and the Coast with large followings of pilgrims on such tours.
"Just like conference tourism, religious tourism will require other products and services besides accommodation," he said.
Ikwaye noted that visitors would in addition sample safaris and enjoy scenery as well as other amusements.
For an entire week, members of the Swaminarayan community converged for daily prayers on and around Mombasa that culminated in a grand prayer reception at the Sai Rock Beach Resort Hotel on Thursday.
His Divine Holiness Acharya Shree Purushottampriyadasji Swamiji Maharaj, the spiritual leader of Shree Swaminarayan Gadi Sansthan, a worldwide centre for spiritual, cultural and social welfare, presided over the special prayers.
"His Holiness prayed for prosperity of the Kenyan nation and peaceful elections. He used the occasion to bless devotees," Sai Rock Hotel General Manager Robert Kiri said.
Veteran hotelier and former KAHC coast branch chairman Titus Kangangi said the potential to tap into religious tourism exists.
"There are quite a number of ordinary tourists who come for holiday, but are keen to learn our culture and religion, hence the potential it presents," said Kangangi, who is also the Chief Executive Officer of Diani Reef Beach Resort & Spa.
Kangangi, a born-again Christian and well-travelled hotelier, said in the Western world, cities such as Jerusalem, Rome and Mecca continue to attract millions of visitors yearly. Analysts say today's religious travel includes multiple sub-niches that range from the luxury pilgrimage market to backpacking and from religious institutional travel to volunteer-oriented experiences meant to help those in some form of need.
Kangangi said the JCC Glass Cathedral in Bamburi, Mombasa, built to accommodate over 30,000 congregants, could be an ideal religious tourism attraction facility.
"There is also the Holy Ghost Cathedral, Anglican Memorial Cathedral and the century-old Mandry Mosque in Mombasa's Old Town. Others include ACK St Emmanuel Church Kengeleni and St Xavier Chapel near Vasco Da Gama Pillar in Malindi," Kangangi said.
In Europe, the city of Fatima in Portugal and Lourdes in France have developed religious tourism sites.
Jacaranda Indian Ocean Beach Resort (IOBR) General Manager Reeza Kanji termed religious tourism as an interesting bit.
"Hotels host retreats, holistic medicine, yoga retreats, book reading ceremonies and church events all of which could lead to the industry's growth," he said.
Pastor Nelson Msowoya of the Enlightened Christian Gathering (ECG), a church that is fast spreading its wings in Kenya and attracting huge following, said religious crusades draw in the numbers and can automatically boost religious tourism.
"Religious gatherings are known to attract quite a substantial number of people. They end up utilising all sorts of services, including hotel accommodation, thus tapping into religious tourism," Msowoya said.
It's a humble Christmas for majority
Eve insists this does not look like usual feel-good Christmas. Already, she has decided that she will not travel to her rural home. And that is bad enough.