Equity Bank beats KCB and Barclays on investor returns, CBK data shows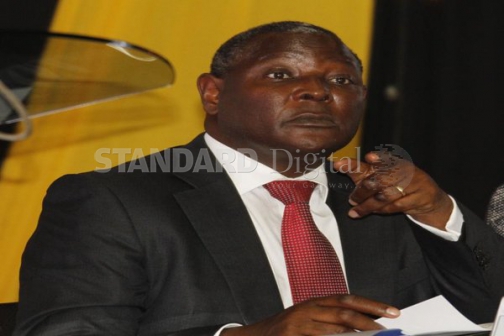 Equity Bank delivered the best returns for investors last year, new data from Central Bank of Kenya shows. The lender beat the likes of Kenya Commercial Bank (KCB) and Barclays, igniting a decade long rivalry between the top three banks.
The latest banking sector report by CBK shows that Equity Bank gave a 47.2 per cent return on shareholders equity in 2015, explaining why the appetite for Equity Bank shares has overtaken KCB on the stock market.
A return on equity measures how much profit a company generates with each shilling shareholders have pumped in. This means that Equity Bank earned its owners 47 cents for every shilling they invested in 2015. This means that James Mwangi and his team generated better returns for its owners in the year.
This will give shareholders of the bank something to smile about given that it has been beaten by its main rival, KCB for five straight years on the total profits made.
By the end of last year, the top shareholders of Equity Bank were Norfininvest AS, a company incorporated in Norway that owned a 12.2 per cent stake. The second biggest shareholder of the bank is British-American Investments Company (Britam), which controls 6.3 per cent, while the bank's employees own 3.8 per cent through the employee share ownership plan.
Mwangi, the bank's chief executive, is the single largest shareholder of the bank, owning a 3.3 per cent stake directly. This could be more given his other stakes through other companies.
Mid-tier lender I&M Bank was the second best performer after it posted a 32 per cent return on shareholders equity. This saw the lender also beat the other six top-tier banks, which have bigger financial muscle.
Barclays Bank of Kenya (BBK) came in third with a 30.4 per cent return on equity, while Kenya Commercial Bank came in fourth with a 29 per cent return on equity. Co-operative Bank of Kenya came in fifth with a 28.5 per cent return.
Equity Bank also beat its rivals on utilisation of assets. According to the Bank Supervision Annual Report 2015 released this week, Equity Bank led other banks to post the best return on assets. A return on assets is a financial ratio that shows the percentage of profit a company earns in relation to its overall resources.
It is this return that perhaps explains why the stock market has placed Equity Bank ahead of KCB on market valuation despite KCB having a bigger asset base. At the close of trading on Thursday, Equity Group's value at the stock market was Sh143 billion. This is about one-and-a-half times that of KCB Group's Sh96.3 billion.
Drop in profits
This is not the only place where James Mwangi is giving KCB's Joshua Oigara a run for his money. Equity Bank once again had the best return on assets, beating its competitors on the second most important measure owners of companies look at to measure the performance of the managers besides the growth in profits.
Equity Bank posted a 6.5 per cent return on assets ahead of Citibank, which was the second best bank in terms of utilisation of its resources, posting a 6.3 per cent. I&M Bank posted a 5.6 per cent return on assets, to come in behind Equity Bank once more.
Other top performers on this score were KCB and Barclays, who each had 5 per cent return on assets. In general, it was not a good year for the banks after the report showed that the sector recorded a 5.03 per cent decline in pre-tax profits to Sh134 billion from Sh141.1 billion in 2014, the first drop in a decade.
"The decline in profitability in 2015 could be explained by a faster growth in expenses compared to the growth in income," the report reads in part. It added that the bank's income increased by 9.1 per cent in 2015 compared to a higher increase in expenses of 16.3 per cent.