CfC Stanbic signs dealers partnership with KenolKobil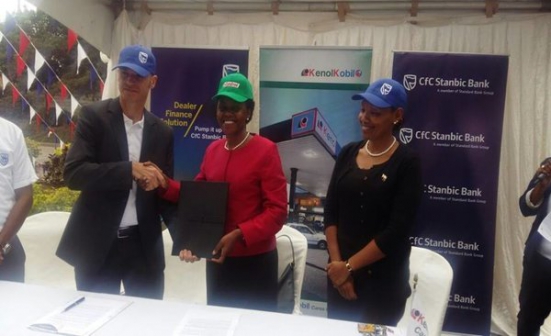 CfC Stanbic Bank and KenolKobil have signed a partnership deal in which all KenolKobil dealers will enjoy a bouquet of financial solutions.
CfC Stanbic Director Rose Kimotho said given the challenges in a growing economy like Kenya, it was imperative that the bank provides fast, safe and convenient ways for its customers to transact.
"We have partnered with KenolKobil to avail to their customers this cashless transactions service through the exclusive usage of CfC Stanbic PDQ machines at all their retail stations countrywide." The partnership also offers KenolKobil dealers an option of a fixed bundle price on transactional banking with key solutions such as online banking embedded on it.
KenolKobil Group Managing Director David Ohana said: "One of the major challenges that our dealers face is access to tailor-made financial solutions that extends to both payments and collections leaving them vulnerable to fraud and aggravated robberies."