Bank profits jump 52pc to Sh38.4b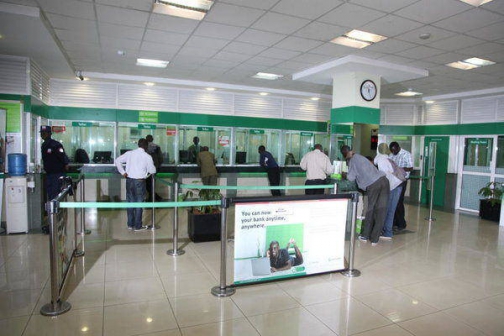 Banks' profits before tax in the first quarter of the year hit Sh38.4 billion, despite a rise in provisions for bad loans.
According to the latest Quarterly Economic Review, which is prepared by the Central Bank of Kenya (CBK), banks saw their profits rise by 51.5 per cent in the three months to March 31, 2016 over the previous quarter.
The report shows the banking sector's profits rose from the Sh25.5 billion posted in the quarter December following a decrease in expenses. Banks managed to push down their costs from Sh105.4 billion to Sh96.4 billion, an 8.5 per cent drop.
Interest on deposits formed the major component of lenders' expenses at 36.6 per cent, while salaries and wages accounted for 24.2 per cent of costs.
The period, however, saw quarter-on-quarter non-performing loans (NPLs) increase by 15.8 per cent from Sh147.3 billion to Sh170.6 billion.
"The real estate sector recorded the highest increase in NPLs over the quarter by Sh5.9 billion (42.3 pe rcent). This is attributable to slow uptake of housing units," the review notes.
This forced most banks to more than double their provisions for NPLs, an indication of an increased perception that borrowers will default.
And though incomes dropped marginally by 2.7 per cent over the three months, the more than three times drop in expenses pushed overall profits up.
Total income dipped from Sh130.7 billion for the quarter ended December 2015 to Sh127.2 billion for the quarter ended March 2016.
"Interest on loans and advances, other incomes and interest on Government securities were the major sources of income, accounting for 60.9 per cent, 14.7 per cent and 16.1 per cent of total income, respectively," notes the CBK.
The increased profitability helped to push up the sector's return on assets, which measures how efficient management is at using its assets to generate earnings.
From December's return on assets of 2.9 per cent, banks closed March at 3.4 per cent.
The review notes that despite the sector's liquidity ratio rising to 39.9 per cent as at March 2016 from 38.1 per cent registered in December 2015, small lenders felt the spillover effects of the closure of Imperial Bank in October last year.
Inter-bank liquidity
"Depositors migrated their deposits to selected medium banks and large banks. Most large banks rationed lines of credit, affecting mainly banks in small and some medium peer groups," CBK found.
The situation was worsened by Chase Bank intrigues that saw it put under receivership in the first quarter of the year before Kenya Commercial Bank took over its management in April. CBK sought to boost inter-bank liquidity through reverse repos to needy banks affected by mass depositor withdrawals.
Overall, those with shares in banks got value for their money, with the return on shareholder funds increasing from 23.8 per cent in December to 27.7 per cent in March.