NSE tumbles as investors lose Sh55 billion in six months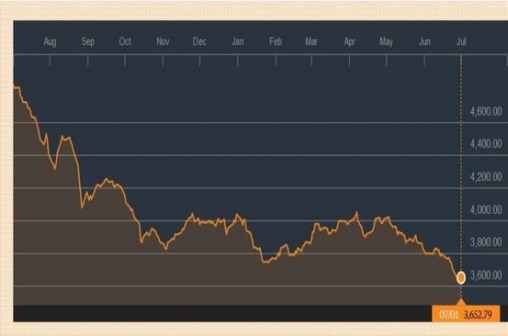 Eight in 10 stocks on the Nairobi bourse are in the red in a bearish market that has seen investors lose about Sh55 billion since January.
An analysis of Nairobi Securities Exchange-listed companies by Weekend Business, only 12 of 64 counters are in green while a massive 52 stocks, being 82 per cent of the market, are in red.
In a run that has seen Sh55 billion of investors' wealth eroded since January 2016, troubled retailer Uchumi Supermarkets share shed the most value. Unlike in January when the retailer's share traded at Sh10.95, it has taken a heavy beating to close the half year at just Sh3. This is a 72.6 per cent drop. The price, which is close to its 52-week low of Sh2.7, saw Uchumi investors' wealth reduce by Sh2.9 billion.
The performance is a reverse of last year when the stock waded through storms to emerge eleventh on the list of top gainers.
Home Afrika, which ran into negative working capital in its latest financial report, remained among the worst performing stocks just like last year. It has so far lost half of its share price and closed trading at just Sh1.3. At this price, it is just a cent shy to a 52-week low of Sh1.2 that it posted in November 20, 2015.
Its investors will be hoping it does not sink further since at a market capitalisation of Sh526.8 million, investors have already lost Sh526.86 million, though on paper.
In what appears a close link between profitability and share performance, TransCentury, which owes its bondholders Sh4.04 billion has seen its share price drop by 38.18 per cent to Sh5.10.
The firm, which began as an investment club for wealthy Kenyans, started trading at Sh60 on July 2011 but since then, the highest price has only been Sh16.65. Now at a market capitalisation of Sh1.43 billion, shareholders have lost Sh880,000 in paper wealth since January. Last year, the stock was the second top loser at the bourse.
Atlas Development, which was the top loser at the bourse last year is now neck-to-neck with TranCentury on the losing streak and comes in as the fourth worst stock. It has shed 38.1 per cent since January and it is now trading at Sh1.3, being very close to its all-time low of Sh1.2.
The firm, which is also listed on London Stock Exchange, has not seen the best at the floor of trading since December when it decided to close its subsidiaries in Kenya. The firm was hoping that by remaining listed, shareholders value would be maximized but so far their wealth continues to shrink. Hopes of posting anything close to a 52-week high of Sh11 appears remote.
National Bank of Kenya, which booked full year loss of Sh1.2 million for the financial year ended December 31, 2015 is the worst performing share among bank stocks. Now at Sh9.8, it has lost 37.78 per cent from Sh15.75 it started the year with.
The resurgent of Standard Chartered Bank means that NKB is the only lender among the top five worst performing shares. So far, it has lost Sh1.8 billion of shareholders' wealth. The bank even posted a 52-week low of Sh7.8 on May 11 this year.
Overall, wealth erosion was largest in banks at Sh76 billion. Top losers in market capitalisation was Kenya Commercial Bank whose 22.86 per cent drop in share price was matched with Sh30.3 billion loss to investors' paper wealth.
Barclays Bank, whose share is now at Sh10- a level close to a 52-week low of Sh9.35- also saw Sh22 billion eroded in the last six months.Other stocks that have disappointed shareholders are Pan Africa Insurance (-36.57 per cent), Olympia (-35.42 per cent), Marshalls (-35.6 per cent), ScanGroup (-33.33 per cent) and Express Kenya which has also lost 33.33 per cent.
Bank stocks
But despite the gloomy picture on the bourse, some 12 stocks went against all odds to put a smile on investors. Africa's only listed publisher Longhorn, which is still fresh from a successful rights issue is the star stock so far. At Sh5.9, its share price is up by 38.53 per cent from January's Sh4.40. The stock engaged a reverse gear from last year when it emerged the sixth on the list of top losing stocks.
With the impressive performance in the last six months, the stock has now created additional Sh1.1 billion for its shareholders. The successful rights issue, added to admission of new shares on the bourse had a positive bearing.
Standard Chartered Bank and I&M are the only banking stocks that are in green so far. Stanchart is second to Longhorn, having gained by 16.81 per cent to trade at Sh205 per share. The performance is another reverse from last year when it emerged the 10th worst performing share on the bourse. At the current price, it has now created Sh10.1 billion for its investors. Its market capitalisation is now Sh70.4 billion.
I&M bank, whose shareholders in May approved its plan to acquire majority stake (65 per cent) in a corporate finance advisory firm Burbidge Capital, also closed half year mark with good results. Its share has gained 9 per cent and is now trading at Sh109 with a market capitalisation of Sh42.7 billion.
Telecommunications firm, Safaricom, which booked an after tax profit of Sh38.1 billion for the financial year ended March 31, 2016, is also a defiant stock. It has gained 7.36 per cent to trade at Sh17.5. On June 16, it even managed a 52-week high of Sh19.
With 36 per cent of market capitalisation on the bourse, Eastern Africa's most profitable firm has now created additional Sh48 billion for its investors to push its market capitalisation to Sh701.1 billion.
Shares also on the rise include KenolKobil (7.29 per cent), Kenya Re-insurance (7.14 per cent) and British American Tobacco (6.37 per cent). Others are; Sasini (4.86 per cent), Britam (3.85 per cent), East African Breweries (2.63 per cent) and Unga group, which is up by 0.74 per cent.
Overall, the NSE 20 Index is down 25.8 per cent this year while the NASI is down 14.5 per cent. So far in first half of 2016, equity turnover is down 30.9 per cent compared to same period last year. Overall, in the last six months, foreign investors have been net buyers compared to the same period last year where they were net sellers.
Weak pound
According to Einstein Kihanda, CEO at ICEA-LION Asset Management, a significant part of the activities on the bourse at the close of last week was driven by Britain's decision to exit EU. "For many investors, the outcome of the referendum was a surprise. Foreign investors are moving to safer assets like dollar-denominated investments. This explains why the dollar has strengthened and the pound has weakened," explained Kihanda.
According to Mr Kihanda, for as long as the market is dominated by foreign investors it will be vulnerable to shocks. "The dominance of foreign investors is because they are looking for alternatives to make money. The question for any investors is whether or not there will be a return on their investment," he said.
However, research Analyst at Standard Investment Bank, Eric Musau said that NSE has generally been weak since the year begun.
Do historical records, monuments and artefacts make economic sense?
One reason we are so tribal and prone to inter-tribal conflicts is because we do not have a sense of national pride. Apart from athletics, where else do we derive our national pride? The liberation War that was Mau Mau is a source of national pride, but it is being attenuated by time and parochialism. One failure of our leadership is stirring national pride. Tribalism and other vices have filled the vacuum.