State revives Sh260b roads annuity plan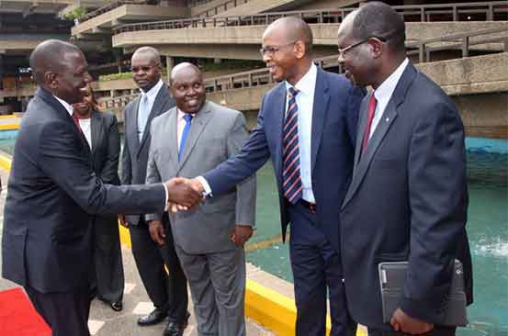 Kajiado County is the first beneficiary of the road annuity programme, in which the Government aims to tarmac 10,000km of roads.
Two roads in the county, the Ngong-Kiserian-Isinya and the Kajiado-Imaroro roads, will be the first beneficiaries in a three-year Vision 2030 programme.
Last week, Kenya Rural Roads Authority Director General John Ogango signed the project agreement with Samit Gehlot, the representative of Messrs Intex Construction Company Ltd, who was contracted tarmac the two roads totalling 91.5km.
Two years ago, the Government unveiled the Sh260 billion Road Annuity Programme which would see commercial banks provide funding to road contractors. The contractors will be responsible for finance, design, construction and a 10-year long-term maintenance of the roads with the government acting as the guarantor.
However, the programme ran into headwinds after lenders differed with the Government on the interest rates to be charged on loans issued to contractors. The Government had negotiated for a 12 to 13 per cent interest rate.
Government guarantee
The difference was aggravated by the fact that at the time local currency was losing value against foreign currencies, with lending rates and inflation going through the roof. As such, the risks for default were high.
It is not yet clear whether or not those differences have been ironed out. The Cabinet in March 2016 approved the first five lots in the Road Annuity Programme in Kajiado, Kwale, Isiolo, Wajir, Taita Taveta, Nakuru, Nyandarua, Samburu, Narok, Kericho and Bomet.
Sources of infrastructure financing including donor aid and government-to-government financing are fast getting hard to come by.
According to Transport Cabinet Secretary James Macharia, even as the government moves towards government-to-government (G-G) co-operation to finance its projects, it should be wary of its inherent risks.
He said the amount of G-G financing, which is mostly loan-based, will also be limited based on the level of Gross Domestic Product, public debt and government guarantee available. With G-G, the Kenyan government was able to get financing from the government of China for the construction of the Sh327 billion Standard Gauge Railway (SGR).
Instead, the CS vouched for industry innovative infrastructure project financing. "The only financing which has no limit to fund infrastructure development is therefore innovative project financing or market-based financing, which will depend on suitable opportunities and legal framework available in an economy to support it," said Macharia during the 7th International Forum of Infrastructure Investment and Construction in Macau, China.