New Central Bank of Kenya boss keen to clean up banking mess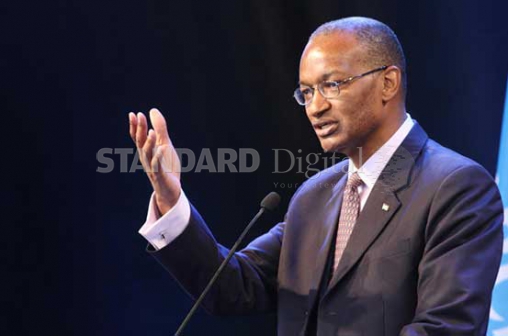 "I hold no financial assets, except my bank balance." This was one of the shocking revelations that Dr Patrick Njoroge made to a parliamentary committee when he was asked to state his net worth during his vetting.
The Yale-educated economist had no future benefits or deferred income, other than the monthly pension he expects to receive after he retired from the International Monetary Fund (IMF).
That is not all, the man did not have any investments in Kenya or abroad despite earning Sh3 million per month. He gave most of his earnings to charity.
And to set the tone of his leadership at the Central Bank of Kenya (CBK), Dr Njoroge declined all the trappings of his job that included high-end cars among them a Range Rover, Mercedes Benz and a VW Passat.
He also would not accept all the heavy security that came with his office and said no to a lavish home in Nairobi's Muthaiga estate.
Instead he chose to lead a humble life among his church members.
For a man who did not value wealth above character, banks had just found one of the firmest Central Bank governors in Kenya's history. He is described as thorough, sensitive and tireless.
The economist is now cleaning up the banking sector, fast.
He says that for years, what mattered for banks in the country were profits and the trend must stop.
After zeroing in on Dubai Bank, Imperial and National Bank, the Yale-educated economist has now set his eyes on Chase Bank. He maintains that his job is simply to create a resilient banking system in the country.
military operation
"We are unwavering in terms of discharging our responsibility in protecting the financial sector," Dr Njoroge said at a media briefing yesterday.
He has sat in many overnight meetings to find a solution and when it fails, he strikes.
For instance, when it became apparent that he would not get his way with the directors of Chase Bank by 4am Thursday, he took the only decision left on the table, and placed the bank under receivership.
"It was more like a military operation. We had to ensure that we had our agents in all the 62 branches of Chase Bank before the bank opened," he said.
Though he recognises that there are some challenges among some banks in the country, he insists that it is not systemic and that banks will have to change their way of operations to survive.
"Before it was a race to the top. If one bank reported a 25 per cent rise in profits, the next bank wanted to report 27 per cent," he said adding that lenders will now have to also compete on cleaning up their books.
Before he was appointed, Njoroge had super credit rating from various institutions. For example, his FICO score, the credit score most lenders use to determine your credit risk, was always between 782 and 806.
"Your score is well above the average score of US consumers and clearly demonstrates to lenders that you are an exceptional borrower," one of his credit rating scores presented to Parliament reads in part.
It is perhaps this strong belief in repaying debt that has seen him push banks to make provisions for inactive loans, a development that has seen banks book heavy losses by providing for non-performing loans.
His firm hand in compliance has sent shocks within the banking sector earning him friends and enemies.
Njoroge speaks fluent Kikuyu, English and Swahili. He also says he can speak average Russian and is a novice Spanish speaker.
scared banks
His body language shows a man who is easy and ready to engage, but behind closed doors, he does not budge. This is what has scared banks the most. "We used to give our books a day before we announced our results and they wiould be approved in time. Now things have changed we must do so earlier than usual. He says we should not wait for him on the corridors," says a banker.
Njoroge beat 22 candidates to be shortlisted for the job. He was only beaten by former Deputy Governor Haron Sirma. But President Uhuru Kenyatta bypassed Sirma and handed the 55-year-old the job.
Njoroge is a PhD holder in Economics from Yale University and did his undergraduate and masters studies at the University of Nairobi.
Before joining the IMF, Njoroge worked at the Ministry of Finance and Ministry of Planning.