Kenya set for investors' conference next week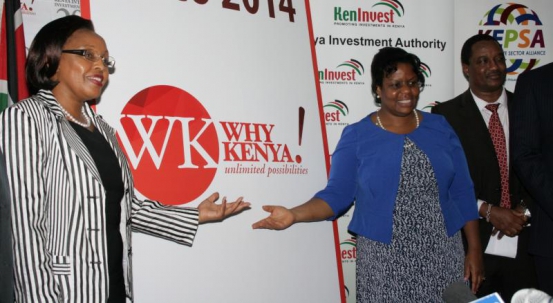 Kenya is expecting thousands of investors next week for the second edition of the annual Kenya International Investment Conference, KIICO as the country shrugs off a sluggish year worsened by high interest rates and currency shocks.
Already, several investors from Africa, Asia, North America and the Middle East have confirmed attendance and the country is expecting significant deals for much needed foreign direct investment to be inked.
"Last year which was the inaugural meet, we had more than 1,300 delegates and this year we are expecting a larger turn out," said Anne Kirima, Chairperson of the Kenya Investment Authority, (KenInvest).
The investment conference is the latest of a string of meetings and conferences Kenya is privileged to host as the country struggles to redeem its image after a slew of terrorism attacks that dealt a heavy blow on the tourism industry.
In July, Kenya co-hosted the Global Entrepreneurship Summit, GES together with the US that saw American President Barack Obama visit here for the first time in his tenure.
The meeting saw over USD$1 billion in business deals signed between the country and US conglomerates like Citibank, CocaCola, General Electric, The Mara Group and Uber among others. Last week, Kenya also hosted the 47th annual general assembly of the African Airlines Association (AFRAA) that ended with Kenya Airway's CEO Mbuvi Ngunze elected to chair the executive committee of the Pan-African assembly.
"Now people outside know more about what to expect from Kenya and we have been liaising with other countries as well to maximise on this opportunity," said Kirima. The three-day investment conference that starts on Monday precedes the visit of Pope Francis, the global head of the Catholic Church who will be in the country for a three day visit starting Wednesday.
The visit comes on the back of a turbulent first half of the 2015/2016 financial year marked by high interest rates arising from a 13 per cent devaluation of the Kenya shilling. Earlier this week the Treasury downgraded Kenya's growth for the 2015 financial year, following in the heels of the IMF and the World Bank which had also issued downward growth revisions in the past month.
KenInvest is however optimistic that the economic prospects are still robust particularly in context to other countries in the region. "Kenya is ahead on many parameters and the challenges we saw were only short-term and investors understand that the gains they stand to make in the country far outweigh the risk," said Kirima.
Kenyan counties will also be in attendance at the event's location at the Kenya International Convention Centre, KICC where they will showcase their projects in the hope of securing funding. "On the third day there will also be a provision of site visits where investors will have the opportunity to be taken round the capital projects like Lapset, the SGR and Konza," said Kirima.