Another bid to kill mitumba in Buy-Kenya-Build-Kenya plan
The Government will be banking on a buy-Kenya-build-Kenya policy to stop the importation of second-hand apparels, popularly known as mitumba into the country. Mitumbas have been blamed for the collapse of the country's textile-apparel industry.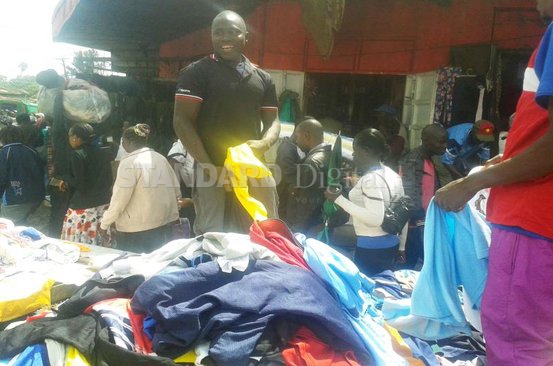 Already, high-level negotiations among East African member states that will see a common policy document crafted are at an advanced stage, according to the Cabinet Secretary for Industrialisation and Enterprise Development, Adan Mohamed.
Mr Mohamed was speaking during the launch of the priority manufacturing sector value chain reports that looked at challenges and potential of three manufacturing sub-sectors. These included timber-furniture, textile-apparel and leather products.
"The Kenya Apparel and Textile Industry Strategic Diagnostic Report recommends we develop Kenya's brand image as a hub for green textile and apparel production. To this end, the ministry will continue negotiating with other partner states for the phasing out of imports of second hand textile and leather products," he said in a speech that was read on his behalf by the PS for Industrialisation and Enterprise Development, Dr Wilson Songa.
The PS ruled out use of a ban to phase out second hand clothes and said the process would be gradual. "The solution is to see how we can become more competitive.
Instead of putting on second-hand clothes, why not go for something we are proud to have made at home, which is also competitive and of the same quality," he said.
To this end, Dr Songa emphasised the need to ensure that Kenya's value chains are efficient.
This would mean minimal production costs, improved infrastructure, availability of cheaper energy and better technology.
The World Bank report showed that second hand leather and apparel imports have displaced local products almost entirely. Imports of non-leather mitumba was estimated at Sh19 million, while imports of second hand leather apparels stood at Sh9 million.
Apparel imports, particularly second-hand clothes, have increased exponentially, even as exports have dwindled.
In the agro-processing value chain, only 16 per cent of Kenya's exported agricultural output is processed, said Mohamed. The Government intends to double this amount to boost agriculture, create jobs and attract both local and foreign direct investments.
In 2014, the manufacturing sector was the second largest contributor to Gross Domestic Product. Conservative figures place employment at about 287,500, with liberal figures stretching it to about 1 million people.
The World Bank report showed that manufacturing, when compared to other sectors, can be a big employer.
According to the report, the fastest growing sectors in Kenya — financial services and communications — added less than 10,000 jobs per year between 2009 and 2013. Four sectors with the highest productivity growth between 2009 and 2013 accounted for only seven per cent of total employment, while a single new apparel factory in the EPZ adds 2,000 plus jobs.
Besides cheap second hand imports, other problems the apparel and furniture sectors face include limited collaboration across value-chains and within sub-segments of each value-chain.
Others include uncertainty around sector sustainability which has undermined willingness of private players to make investments for growth; low productivity due to lack of technology and managerial skills; dismal productivity and difficulty in accessing markets.
Tourism big winner in direct flights deal
The resumption of flights to Kenya by German airliner Lufthansa after an 18-year absence is a boon to Kenya's ailing tourism sector, says Joseph Magutt, Kenya's Ambassador Extraordinary and Plenipotentiary to the Federal Republic of Germany.