Kenya pursues nuclear power as rest of the world slows down over risks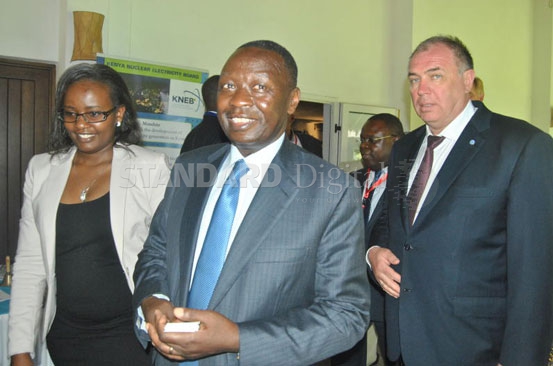 Kenya is forging ahead with plans to set up its first 1,000 megawatt (MW) nuclear power plant by 2023 as part of an ambitious development agenda.
The plans, spear-headed by the Kenya Nuclear Electricity Board, are in top gear with pre-feasibility studies having been concluded, paving the way for detailed studies on where the plants will be established and nuclear waste management.
The Board's Chair, Ochilo Ayacko, notes that the country is on course to deliver nuclear power plants. "We have concluded the pre-feasibility studies and I can confirm that nuclear power is a viable option in Kenya's energy mix. We look to have the first plant up and running by 2023," said Ayacko on the sidelines of the third conference on Energy and Nuclear Power in Africa in Diani.
The event, organised by the International Atomic Energy Agency (IAEA) in collaboration with Kenya, brought together experts in the energy field to discuss national and regional energy development strategies, taking into consideration the potential role of nuclear power.
Government officials announced that Kenya is looking to establish four nuclear power plants with a capacity to generate 1,000 MW each. "Our ultimate deadline is that by 2031 all these four plants will be up and running," Ayacko, a former Energy Minister in former President Mwai Kibaki's Cabinet, announced.
About 69 per cent of Kenyans live in homes without electricity; one nuclear power plant could provide up to 1,000 megawatts of power for those homes.
Energy and Petroleum Principal Secretary, Joseph Njoroge, was also optimistic that Kenya will go nuclear despite underlying concerns over safety over this power generation mode. "Nuclear electricity generation with its low operation cost and liability will be one of the jewels in our energy crown come 2031," Njoroge said. "With nuclear we are assured of cheap, and a reliable energy source. The plants can serve us for about 100 years. Other energy sources can be depleted. Nuclear thus is our focus for the future."
However, the project is not without its doubters, who wonder whether nuclear power is safe compared to other clean energy sources.
Rally MPs
Despite assurances of safety there are dissenting voices as to whether Kenya should consider adopting nuclear technology. Many developed nations have turned away from nuclear power following the disaster at Japan's Fukushima plant in 2011. Germany is scheduled to close all of its nuclear plants by 2022.
In Kenya too, there are those who fear a nuclear plant could invite a Fukushima-type of disaster, or be a target for terrorism. "Kenya does not have the capacity nor the financial ability to develop nuclear energy. Why are we rushing to nuclear and yet countries are pulling out. We do not have the security demanded for us to deploy nuclear energy," pointed out Richard Tongi, MP Nyaribari Chache, a member in the ICT and Energy Committee.
He said Kenya should first exploit other energy sources before building capacity to adopt nuclear energy. "I am yet to be convinced over why we are talking about nuclear and yet we have not even exploited half of Geothermal. I will rally MPs to oppose this venture," he warned. But in equal measure there are some legislators rooting for nuclear and say Kenya cannot afford not to go the nuclear way.
"This is where politics kicks in. If we have nuclear, we can always distribute it to other countries. Kenya must show the rest of Africa that we are an investment destination. If we can have it be sure we will attract some serious investors into the country," said James Rege, also a member, ICT and Energy Committee of Parliament.
Setting up nuclear has its financial implications which Kenya says it is ready to take on. Ayacko said the investment will require between $5 billion (Sh465 billion) to $9 billion (Sh837 billion) for a single plant.
"The costs are huge at initial stages but once the plants are up and running, we will recoup this investment in less than five years. We must scratch our heads and think hard about nuclear. South Africa and Egypt have done it why are we dragging our feet. It is proven technology. We must go the nuclear way," he said.
Johan Muller, programme manager, Energy & Environment at Frost & Sullivan, consulting firm which provides market research and analysis says the decision by any country to introduce nuclear (or any other energy technology) into the energy mix, should be a well thought-through and justifiable decision. "It seems that Kenya is in need of more base load power. Whether nuclear is the answer, given the complexities surrounding building nuclear power plants, is the real question," said Muller.
"In my view, few African countries are geared for nuclear power generation, given the price tags, the safety risks, the skills needed, the terrorism activity. Whether Kenya will be ready will be seen as (and only when) the regulatory landscape unfolds."
Requisite legislation
Although the talk of going nuclear has been an area Kenya has been pursuing for about a decade now, the country is yet to develop legislation that will allow for the establishment of a regulator for the sub-sector.
Kenya has been an active member of the International Atomic Energy Agency since 1965, the global body which is at the fore-front of developing guidelines for countries looking to adopt nuclear energy. "The legislation is still in the draft stages and we hope to work with the energy committee in tackling this," adds the board chair.
"We want to be part of this through preparation of a legal framework that will lead to the formation of an independent nuclear regulator for the sub-sector," notes Mwala Constituency MP Vincent Musyoka. Uganda and Tanzania have already in place requisite legislation as well as commissions to jump-start the journey to developing nuclear power.
"For Kenya's case we are yet to identify a vendor who will supply the equipment. We are exploring various options such as Private Public Partnerships in actualizing the four nuclear plants," notes Ayacko whose board receives a paltry Sh300 million to run its operations.
Kenya has started building nuclear energy expertise. "We have people being trained in Korea, US and sooner than later we will have people being trained in Slovak. This is the only way we can assure safety before deployment," Ayacko added.
Report: PwC outlines key real estate trends
Global megatrends, such as rapid urbanisation and demographic changes, will drive growth in the real estate industry across Africa over the next five years, according to audit firm PwC.