KTB hosts 170 travel trade representatives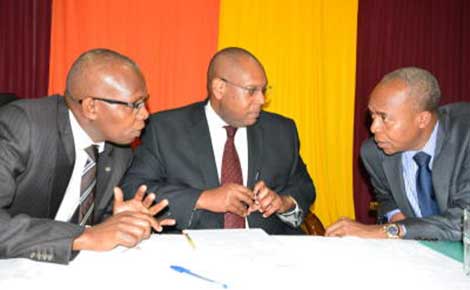 Transport and Infrastructure Cabinet Secretary Eng Michael Kamau, confers with Transport PS Nduva Muli (centre) and Kenya Railways Managing Director Atanas Maina (left), during a Standard Gauge Railway sensitisation workshop held in Nairobi for county commissioners and their deputies on Thursday. The CS reiterated that the project is on course. [Photo: George njunge/STANDARD]
Nairobi; Kenya: More than 170 hosted buyers from 36 countries, began arriving in Kenya from the October 1, in readiness for the 4th edition of the Magical Kenya Travel Expo (MKTE). The event, which takes place between October 8 and 10, 2014 is envisaged to boost the Kenya's tourism sector.
MKTE borrows from other widely publicised exhibitions that Kenya Tourism Board (KTB) has benchmarked on and has attended over the years.
"We want to assure you and your clients that Kenya is safe and open for business," KTB Managing Director Muriithi Ndegwa, said in his address to the buyers.
There will also be a team of experts providing seminar talks on tourism topical issues. The exhibition will be the second edition of seminars after a successful session in 2013. The inclusion of seminars is to present a platform for members of the Kenya Travel Trade and KTB partners to benefit from the presence of international presenters who will be sharing useful information on tourism trends.
These speakers are considered authorities in their fields as well as opinion leaders. The presentations will be followed by panel discussions from the Kenya travel trade. The official opening of the expo will be on October 8. Among invited guests are senior officials of the United Nations World Tourism Organisation.
The hosted buyers are traversing the country from the pristine coastal beaches to Kenya's national parks and reserves and conservancies.
EU clears Facebook's buyout of WhatsApp
European Union regulators on Friday cleared the buyout of the WhatsApp mobile messaging service by Facebook, despite opposition by telecom companies afraid of the growing power of US technology giants.