Questions raised as Government defers payment of $600m loan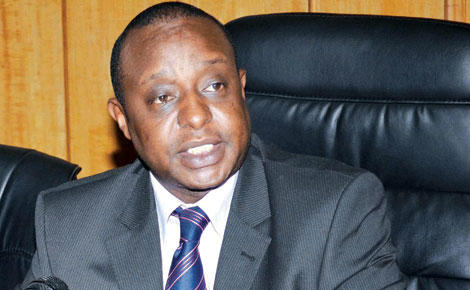 Treasury Cabinet Secretary Henry Rotich. [PHOTO: FILE/STANDARD]
By James Anyanzwa and Reuters
Could the economy be in financial distress? This is the big question among economists after the Government moved to reschedule a $600 million (Sh52.2 billion) syndicated loan. The National Treasury received a three-month extension on the commercial debt after its debut $2 billion (Sh174 billion) Eurobond was delayed.
"What we have done is just extend the repayment... by another three months as we continue discussions on the sovereign bond," Kamau Thugge, the National Treasury's principal secretary, told Reuters.
The country secured a two-year loan at an interest rate of seven per cent in 2012 to fund development. Underwritten by Citigroup, Standard Chartered Bank (UK) and Standard Bank of South Africa, the loan was due for full repayment on May 16.
National Treasury Cabinet Secretary Henry Rotich said terms and conditions of the loan remain the same as before but extension attracted a fee which is usually charged in line with normal practice. He however, declined to give more details.
Economists, however, said the request for the extension of the repayment period is a signal of an economy that is under financial duress.
Cash crunch
"This means the Government is totally broke. The Government has overstretched itself in terms of expenditure. We are running a shortfall in revenue collections and there is no money in circulation. All these are signals that our economy is in bad shape," said Samuel Nyandemo, a senior lecturer at the University of Nairobi's School of Economics.
According to Dr Nyandemo, rescheduling the loan repayments comes with penalties, which would make the loan even more expensive, coupled with the weakening of the local currency against international currencies.
"There are penalties on the extension of the repayment period, which depends on the terms and conditions of this loan," he said.
According to Thomas Kibua, a former long-serving deputy governor of the Central Bank, the financial position of the Government is not good.
"I think the crude term is you (Government) are running broke. Your programming is not right and something is not right," said Dr Kibua who is currently a senior economist with African Development and Economic Consultants.
"Our national debt has become an issue. They want to buy more time to repay this loan, which is not a good thing because the shilling is slightly depreciating against the international currencies," he added.
Although the IMF and World Bank had given Kenya's debt position a clean bill of health with the Debt to GDP ratio standing at 45 per cent, the situation has since deteriorated with no word yet from the Bretton Woods institution.
Kenya has had to ask for a three-month extension because of delays in floating the Eurobond. Matters are going to get worse in March 2015 when Sh152.9 million worth of Government bonds are set to mature.