Private equities pump billions into fast-growing startups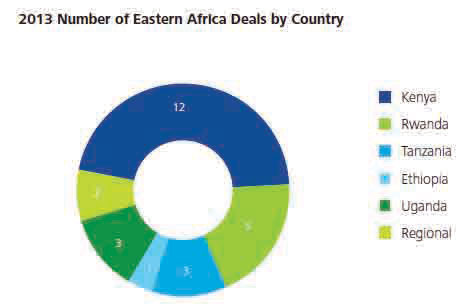 Private equities pump billions into fast-growing startups
By Frankline Sunday
Small and medium enterprises (SMEs) in Kenya stand to win big as private equity funds turn their focus towards the growing sector in a bid to cash in on growing opportunities in the country.
Data from the 2014 Edition of the Private Equity (PE) Confidence survey released by consulting firms Deloitte and Africa Assets, indicates that with competition in Kenya's nascent private equity industry growing stronger SMEs are some of the beneficiaries of their investment.
"Many private firms stated that moving forward, more deals are expected to concentrate on SMEs particularly in the consumer driven sectors, where an expanding middle class is seen as a key driver of future revenues," said Alexander Van Schie, East Africa's director for corporate finance services.
This means that more private equity companies this year will be lining up to invest in SMEs that show potential, providing much needed capital for the sector which is the greatest employer in Kenya's formal sector. "This focus is explained by the expanding middle class, seen as a key driver of future revenues, but it is a crowded space with PE funds looking for attractive deals," said Van Schie.
Agribusiness is also one of the sectors that is expected to receive much attention by private equity investors as improved value addition in several agricultural sectors over the past few years has generated more value in the sector.
Primary agriculture
"Agribusiness is a focus area in Kenya for many private equity firms because Kenya has been shifting its practice from primary agriculture to a value-addition system which ensures more returns on investment," stated George Odo from Africa Invest, a private equity company.
Kenya remains a key destination for private equity firms in the region owing to its highly differentiated economy and high rates of returns but still faces several challenges.
"Despite this growth, the PE industry is still in its nascent stages, compared to other more advanced emerging markets. Of immediate interest is whether the growth in PE activity has outpaced growth in the number of deals," said Andrea Bohnstedt, Director of Africa Assets, who co-authored the report.