Orange Kenya, Safaricom: Who is cheapest in town?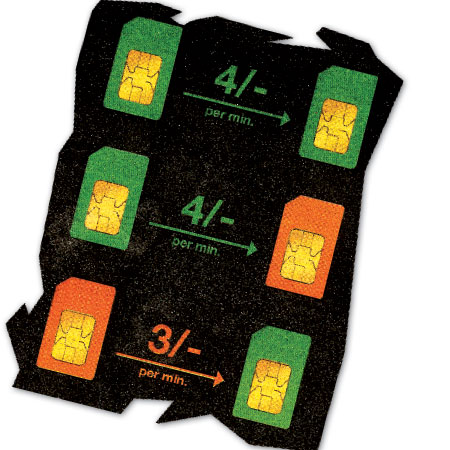 A paid up advertisement by Orange Kenya showing cross network call rates. [PHOTO: FILE/STANDARD]
By JEVANS NYABIAGE AND EMMANUEL WERE
NAIROBI, KENYA: The gloves are off for a new round of mudslinging and messy fight for the local mobile phone services market. Orange Kenya has gone bare knuckle depicting Safaricom's call tariff as expensive compared to its own, potentially opening up a new all-out war to fight for consumers in the competitive mobile phone market.
The mobile operator, which is 70 per cent owned by French telecom giant France Telecoms, in a paid up advert yesterday uses green (the Safaricom corporate colour) to show how calls from one 'Safaricom' user to another 'Safaricom' user costs Sh4 per minute.
The advert then cheekily shows how a call from Orange to Safaricom costs only Sh3 per minute.
"It is more affordable calling the other network (Safaricom) from Orange than calling within that network (Safaricom). So get an Orange line from your nearest Orange dealer today, and talk, all day, all night on the permanent Tujuane tariff," said Orange in its paid up advert.
For Orange it is an attempt to reach out to the 20 million Safaricom voice customers who mostly call within the network. Safaricom controls about 70 per cent of the voice market. Orange, Essar and Airtel have been trying to fight Safaricom with lower prices for their voice products.
But Safaricom has been pushing aggressively to transform its services to more than voice with the M-Pesa, M-Shwari and other services like linking one's bank account to the mobile sim card. This means many consumers are unlikely to shift having been "locked in" Safaricom.
LATEST ONSLAUGHT
Ironically, Safaricom grew its voice revenues by 12 per cent to Sh41.92 billion in the six months to November. The other three mobile networks have been making losses in Kenya. The question is how Safaricom will respond to the latest onslaught. Will it move to court?
When contacted, Safaricom's head of Corporate Communications Ann Nderi said the company's ads always try to target consumers and the products it offers not what other operators offer. "We don't comment on other company's adverts," she said.
FORMATIVE STAGES
Mobile phones could be reverted to the bitter rivalry last witnessed in their formative stages. In August 2010, Airtel went charm offensive and openly chided Safaricom with the line "Going Green is not always the Better Option" in a newspaper ad. Green is Safaricom's colour and "The Better Option" is Safaricom tagline.
Back in 2000, then Kencell picked on its competitors network infrastructure and ran a campaign that popularly turned out to be referred to as 'Congested-Connected'.
It is only a few months ago that Unilever — through its brand Omo moved to court to block adverts by competitor Procter and Gamble — the manufacturer of Ariel.
Unilever had applied that "Ariel adverts falsely and by implication depict their product Omo as being grossly incapable of removing stains in one wash".