Ranneberger saw, loved, and conquered
By George Orido
When US ambassador Michael Ranneberger arrived from Mali to take up his new tour of duty in Nairobi, he instantly fell in love with the country and its people.
And while on official duty, love it was at the first sight of a beautiful Kenyan woman from Kilgoris – Ruth Konchella.
"While attending a women's rights event in a small village of Enossen in Trans Mara I was impressed by the way she talked on behalf of women. I took notice," recalls Mr Ranneberger after hosting hundreds of invited guests at a farewell party at his home in the leafy suburbs of Muthaiga Thursday night.
He says things did not begin immediately but took some time before love blossomed.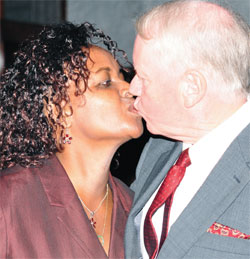 US Ambassador Michael Ranneberger embrace Ms Ruth Konchellah. Present at the farewell party were Lands Minister James Orengo Heritage Minister William ole Ntimama and Kisumu West MP Olago-Oluoch. Photos: Evans Habil/Standard
"She is a wonderful, compassionate, intelligent and sweet person," he describes his soul mate who has a passion for saving young girls from the dreaded female circumcision.
The good friend
Konchella stole the show at the reception when she disclosed the goings-on between her and the ambassador during her speech that was received with excitement.
She first met Ranneberger on his arrival in Kenya five years ago and his first trip was to Trans Mara.
"Today Michael is a good friend. Michael you are so great, you are so lovely. I love your compassion," she recalled amid applause from dignitaries, including Cabinet ministers, diplomats, corporate executives, and relatives.
Addressing the now keen audience after her written speech disappeared somewhere within the protocol arrangements, she declared: "He discovered Africa while I discovered first world love."
Konchella, who recently appeared in public with Ranneberger as, 'some unidentified female company' opened it all when she said, "You are the best thing that has ever happened to me. You are a great friend in times of need."
She told her audience how "the ambassador walked some seven kilometres to save a girl child from female genital mutilation".
She asked her programme administrator Edna Kerubo to present a gift to her love on behalf of the organisation.
"The work that she does is very important and we try to support each other," said Ranneberger, who was full of joy and praise. The guests had not had enough of the couple yet. When Konchella was through with her speech, Ranneberger came and gave a hearty warm embrace and the lovebirds were lost in a long kiss as photographers had a field day.
So, has he proposed yet and is the wedding anywhere yonder?
"Not yet and we will see and weigh and make a decision and when the time comes you will know," Ranneberger told The Standard.
But you have a family why are planning to get married?
"I have no family but I have two children — a daughter, who has just joined Madison University in the US, and a son who is now grown up. That's all."
In his speech, the Ambassador talked fondly of his daughter Elizabeth and son Mark.
"My daughter spent four wonderful years in Kenya and grew up into the young woman and my son Mark spent a year here and like Elizabeth fell in love with the country."
He thanked Konchella for her love and support and said she is one of the magical experiences he had in Kenya.
US home
Speaking to Standard On Saturday, after seeing off his guests, he said he was impressed by her words and that he had a tremendous respect for her.
"I feel the same way (love) about her," he admitted.
Ms Kerubo described Konchella as a hard working, warm, and caring boss who has even helped pay her fees for her CPA studies.
Her assistant at Cherish Others Organisation, Irene Nyambura, describes her boss as a visionary and one full of encouragement, "When things are thick she would say 'you don't believe? We are going to get there'."
Konchella says she will be going with her love to the US but will come back to Kenya on many visits. "I will remain Kenya's faithful ambassador there," she said.
Tecno launches Camon 19 and Spark 9
Tecno Kenya announces launch of Camon 19 series & spark 9 seriesThe CAMON 19 Series will offer incredible night-time photography features & the SPARK 9 Series will redefine selfie and iconic design for Gen Z.