Khalwale floored in poll petition
By Roselyne Obala
Vocal Dr Bonny Khalwale is no longer a Member of Parliament.
The election of the vibrant former Ikolomani MP, often referred to as the 'Bullfighter' owing to his famed love for the sport in Western Kenya, was nullified by the High Court in Kakamega over "fundamental irregularities".
The blow to Khalwale made him the tenth MP to suffer the wrath of a Judiciary that is now reasserting itself to take its rightful place in the Government matrix, on the back of the highly contested 2007 General Election that was fraught with irregularities.
The petition, filed by Bernard Shinali, put paid to Khalwale's stint in the 10th Parliament — at least until after the outcome of a by-election in which he will have to fight it out with others — on whose floor Khalwale has been an avid contributor.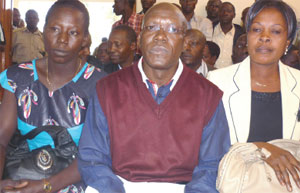 Former Ikolomani MP Bonny Khalwale with his two wives, Adelaide (right) and Josephine, follow proceeding at Kakamega High Court Friday. [PICTURE: BENJAMIN SAKWA/STANDARD]
And it was sweet victory to the ears of Shinali's supporters after Justice Lenaola — in his 76-page ruling — declared that the MP's election was fraught with irregularities and cited the general conduct of the defunct Electoral Commission of Kenya (ECK) and Returning Officer Jane Wasilwa.
"I have endeavoured to show that the 2007 election in Ikolomani Constituency was not conducted in an efficient, accurate nor accountable manner," Lenaola read.
He continued: "Since the elections in Ikolomani Constituency were not carried out freely, fairly and in accordance with the law, I hereby declare that Khalwale was not validly elected as MP."
Immediately after the judgement, Shinali's supporters — who had jammed the courtroom — rose in song and dance, praising the judicial system. Lenaola noted that in his submission, Stephen Mwenesi — for Shinali — focused wholly on the issue of election.
Lenaola directed the Independent Electoral and Boundaries Commission to proceed and conduct a by-election. The judge lightened up the moments in court when he said that Ikolomani Constituency was famed for its bull-fighting sessions and which culture the residents took pride in.
Lenaola directed that the defunct ECK bear the costs of the petition. The judge noted that the elections had been hotly contested and that Khalwale was declared winner with 8,386 votes while Shinali came second with 8,121 votes.
"It is agreed that the difference in votes was therefore 265 votes, a very small margin," he noted.
Lenaola noted that out of the 78 polling stations, only one was not affected by 'mathematical errors'.
He said only one polling station met expectations or regulations, with 35 Form 16As having glaring anomalies and no other polling station producing a proper Form 16A.
Lenaola, however, dismissed alleged violence, assault and threats to voters at two polling stations arguing that witnesses could not prove it.
He further dismissed allegations of "witchcraft, oathing, devilish and satanic practices."
The Judge noted that the ECK and Wasilwa committed election offences in that agents and officers under them made false entries regardless of election results and refused to allow Shinali's agents to sign.
Lenaola noted that bribery allegations against the former legislator had been withdrawn
Celebrations by Shinali's supporters spilled out of the court premises to the streets of Kakamega town. Shinali first addressed a crowd outside the courts before a street party commenced. "We have waited for so long but justice has prevailed in the end".
He thanked his supporters for standing by him throughout the trial process.
Khalwale left the courtroom in a rush and told his supporters outside to wait for the day he will again face Shinali at the ballot.
Tecno launches Camon 19 and Spark 9
Tecno Kenya announces launch of Camon 19 series & spark 9 seriesThe CAMON 19 Series will offer incredible night-time photography features & the SPARK 9 Series will redefine selfie and iconic design for Gen Z.