PNU man beats Narc-K to reclaim Kirinyaga Central seat
By Moses Njagi
Party of National Unity's Joseph Gitari emerged the winner in the Kirinyaga Central by-election with 18,520 votes beating his nearest challenger Daniel Karaba (Narc-Kenya) who got 16,681.
The by-election was billed as popularity contest between deputy Prime Minister Uhuru Kenyatta and Gichugu MP Martha Karua who now has to reorganise her strategies as she battles Uhuru for the frontrunner position in Central Kenya politics.
From the time the by-election was declared a few months ago, the contest shaped up as a frontier for testing the popularity of the Finance Minister, who wants to be crowned the unchallenged supremo of Central Kenya politics, and the Narc-Kenya chairperson.
With Kirinyaga voters now rejecting her candidate, Karua's pain is compounded by the fact that the constituency is counted as part of her homeground as her Gichugu constituency neighbours Kirinyaga Central.
Supporters of Gitari broke into song and dance as early results showed that he had built an unassailable lead against Karaba who had lodged a successful petition that led to the by-election.
Karaba had maintained that he had won the elections in 2007 even though the defunct Electoral Commission of Kenya declared Ngata Kariuki as the winner.
But yesterday, it appeared that the majority support Karaba enjoyed in 2007 had withered as Gitari continued opening a huge lead as counting progressed.
Impressive turnout
Yesterday's outcome was sweet revenge for Uhuru after Karua trounced candidates he backed in recent by-elections, including Juja where William Kabogo defeated PNU's George Thuo.
38,695 voters turned out to vote out of 56,595 registered voters translating into an impressive 68 per cent turnout.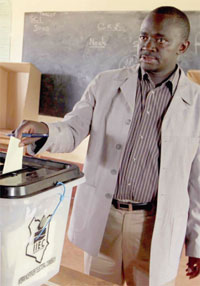 Gitari cast his vote at the Kiamutuira Primary School, Kerugoya town.
"We are members of Narc Kenya party and we are only here to monitor how things are going. Those accusing us of malpractice are only doing so out of panic," said Kabogo in the morning.
Mr Mwaniki, the DP candidate accused the Narc Kenya and PNU teams of engaging in malpractices.
"The election was marred in the morning by the two parties. Voters now are staying away from the polling stations awaiting first to be bribed by the agents of these parties. That is why there are no queues inside the stations while many people are waiting outside the compound," said Mwaniki in morning.
Corruption claims
Kirinyaga Central OCPD Mr Patrick Oduma admitted there were allegations of malpractice, but said that there was no evidence and that there were no arrests.
Voting in the 50 polling stations in the constituency started at 6.00 a.m. and while there were queues building up in the early hours, the trend was reversed with time with less people trooping to vote in the afternoon.
Majority of those who reported early to vote were the elderly, with the youth keeping away from the stations. Observers reported cases of voter bribery, especially in Kagumo area, Kerugoya town and Kaitheri.
Reverend John Mathenge an election observer with Kenya Veterans for Peace (KVP), told The Standard that a number of cases where some candidate's campaigners were bribing voters were reported.
"We have so far received such reports in Kaitheri Polytechnic, St Joseph School and Njegas. These are cases that we will forward since we have evidence of the massive bribery," said Reverend Mathenge.
Among the early candidates to vote was Karaba, who cast his vote at Njegas Primary School shortly before 9 am.
"I am impressed even though the turnout is still very poor, but I hope with time it will improve. I am optimistic of carrying the day unless my opponents rig as it happened in 2007," said Karaba after casting his vote.
Gitari cast his vote at Kiamutuira Primary School.
The PNU candidate was escorted by Githae and voted shortly after 10 am.
"We conducted our campaigns and now it is the turn of the voters to decide. I am optimistic that by evening we will be celebrating our victory," said Gitari moments after he voted.
Ngunyi of KNC and Muraguri of PPK cast their ballots at Kabumbu Cattle Dip and St Joseph School respectively.
DP's Mwaniki cast his vote at Mukinduri Primary School while Kagoiyo of Ford Kenya voted at Kaitheri Youth Polytechnic.