Starving Kenyans eat poisonous fruits for survival
KARANJA NJOROGE
The dry riverbeds, wilting shrubs and emaciated women with malnourished babies tied on their backs welcome you to the sun-baked East Pokot District.
Spine–chilling scenes of dying animals and families feeding on wild fruits are an indication of a community on the verge of a catastrophe.
In the villages, the youth and a few energetic older men have abandoned their homes in desperate search for pasture and wild fruits. Only children and women who are too weak to walk are left behind.
Even as the government assured Kenyans that no one would die from famine, all indications are that hundreds of residents in the larger Baringo County were staring death in the face.
Villagers who have gone for days without food have been subsisting on wild fruits known locally as Sorech or loma.
Environmentalists told the The Standard crew on a tour of the drought-stricken areas that the wild fruits were poisonous.
Before they can call it a meal the bitter fruit has to be boiled for hours to make it edible.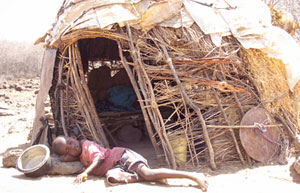 With an empty 'sufuria' next to him, a child sleeps outside a manyatta in East Pokot

"We boil it (Sorech) for more than seven hours. It keeps us going, especially the children, who may not understand what is happening," said Cheponot Ang'ura a resident of Marikashian in Ng'inyang Division.

Watering point

Soaked in dust and adorning beautiful beaded necklaces and a baby on her back, Ang'ura had just returned from the only watering point more than 20 kilometres away.

She says despite Government promises, the last time the area received relief food was in October last year. "Our stomachs rumble the whole day and some of us have fallen ill after eating the fruits," said Grace Lonoki.

Most of the animals have died and those still surviving can barely walk.

The situation has forced many children out of school because their parents are migrating while in search of food, pasture and water.

Teachers are worried that education standards may suffer an irreversible decline in the region.

"If the situation does not improve the education sector in this area will collapse as hundreds of children are leaving school," said Mr. Daniel Lokitale, a local teacher at Nginyang.

A spot check in other schools in the area revealed shockingly low attendance with the exception schools offering relief food.

Things have been worsened by the drying up of major dams like Chemeril, Merikal, Kadiding Chestet, Chesmkat and Lokoropok, which the pastoralists rely on for water.

In desperate search for water some of the villagers have been scooping the dry dams in search of the precious commodity for their livestock and for their domestic use.

A civic leader, Peter Dindi said a human catastrophe is unfolding in the area as thousands of villagers face starvation.

Primary Schools

"This area may soon become a graveyard. Some of the villagers have only a few days to live because of lack of food," he said.

Dindi said the Government should move in and buy livestock from the farmers before the situation gets out of control.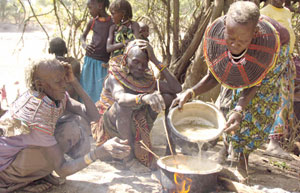 Women cook wild fruits.

[PHOTO: BONIFACE THUKU/STANDARD]

The price of the livestock has dropped significantly and unless the weather improves, the pastoralists may lose all their livestock which is a livelihood here.

"A goat which was two months ago worth Sh3,000 is currently fetching a paltry 1,000. We want the Government to come to our aid," said a herder Chepokasogom Ng'onding'ot.

Local leaders are asking the government to transform Primary schools into boarding facilities and to introduce feeding programs.

"It is the only way to avoid the recurrent problems of learning being interrupted because of famine," said Lokitale.

The residents said they rely more on relief agencies instead of the Government, which they accuse of offering lip service.

An officer with Action Aid, Musa Kabon said the drought might lead to increased communal conflicts as the pastoralists fight over the scare resources.

He said the Pokot pastoralists have moved into areas neighbouring Turkana, which may lead to fights as the communities compete for limited resources.

"The scramble for water and resources has seen some of the pastoralists move into areas occupied by other communities and it may lead to bloody conflicts," he added.

The Government has formed an inter-ministerial committee to address the worsening drought.

The Permanent Secretary in the Ministry of Special programmes, Mr Andrew Mondoh said the situation was getting out of hand.

He clarified no one has died from the ravaging famine but said his ministry was seeking more funding to provide relief food.

 
Tecno launches Camon 19 and Spark 9
Tecno Kenya announces launch of Camon 19 series & spark 9 seriesThe CAMON 19 Series will offer incredible night-time photography features & the SPARK 9 Series will redefine selfie and iconic design for Gen Z.