Saitoti names MPs linked to narcotics trade
By DAVID OCHAMI
Four MPs and a businessman have been named as the high profile Kenyans whose alleged involvement in narcotics trade was under probe following a secret US dossier.
Trade Assistant Minister Harun Mwau, Kisauni MP Hassan Joho, Makadara MP Gidion 'Sonko' Mbuvi, and Juja MP William Kabogo were named as the MPs who are being investigated over links to drug trafficking. Internal Security Minister George Saitoti, who made the sensational announcement on the floor of Parliament yesterday, also said Mombasa businessman Ali Punjani was also being probed over trade in narcotics.
Rising on a point of order, Kisauni MP Joho defended himself and demanded that his name be expunged from the list because investigations were incomplete.
"I am saddened that the minister (Saitoti) can take this matter lightly and mention names in this House. I don't need any favours. I don't need to be assisted. I just want full force of [the] law to be applied even to myself," said Joho.
He added: "I don't even know how these things look like."
In response, Saitoti, who looked bemused by Joho's agitation, said under the law, those on the list should be presumed innocent until proven guilty.
On Tuesday, Sonko had complained of police harassment and asked for protection, but yesterday Saitoti told Parliament the MP was complaining about investigators who are probing him over the alleged connection to drug trade.
Punjani is remembered for making a personal contribution of Sh6 million at a fundraising organised by President Kibaki and Prime Minister Raila Odinga, last year, for residents of Faza Island in the Lamu Archipelago whose houses were burnt. At the fundraising Joho also gave Sh1 million in cash, as his personal contribution.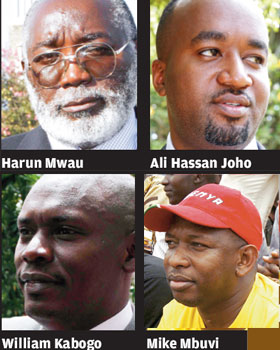 Saitoti names suspects in narcotics trade, says investigations will be complete within a month

Saitoti's announcement ends a month of speculation over the identity of the individuals the US had fingered for alleged involvement in drug business.

US Ambassador Michael Ranneberger had handed over the dossier to the Kenya Anti-Corruption Commission (KACC) director PLO Lumumba on November 24, containing what is claimed to be proof of the alleged involvement of some prominent Kenyans in drug business.

Expelled from chamber

The debate that followed the disclosures left one of the MPs named with tears welling in his eyes.

Ikolomani MP Bonny Khalwale was also expelled from the chamber of Parliament for engaging in a "shouting match" with Speaker Kenneth Marende.

Some of the MPs mentioned left Parliament, without addressing the Press.

The disclosures follow a recent edict by Kibaki ordering the police to arrest and prosecute alleged drug dealers without regard for their position in Government.

Raila also told the House a multi-sector Government task force would conclude investigations of the drug menace in two months.

Raila said the investigations are complex and will go "beyond Kenya's borders".

But Gichugu MP Martha Karua, the Narc-Kenya leader, to whose party two of those cited belong, said that if the task force would be under the PM's office she would not expect it to be "fair" in its investigations. Kabogo and Sonko are Narc-Kenya MPs.

Karua accused police officers of using "unorthodox" tactics to investigate the Makadara MP who has been detained and interrogated over several crimes.

After Saitoti sensationally told a hushed Parliament the four MPs are under investigation for narcotics trade, Kabogo immediately claimed the minister had omitted the "wife of a very senior official" in Government from his list.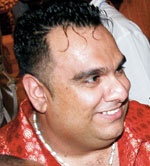 Ali Punjani
Saitoti said he was disclosing the names due to pressure from Parliament.
Pressure was also mounting on the Government from the public. Muslim leaders in Mombasa, which is most affected by drug addiction, have been calling on Saitoti to name those linked to drugs trade.
"Due to demands by Members of Parliament, I reluctantly table the names of other members accused of involvement in drug trafficking," he said.
A moment earlier Saitoti had told the House police officers who visited Mbuvi's Parliament office on Tuesday, were looking for evidence of his possible involvement in drugs.
List given to KACC
"Police are investigating Honourable Mbuvi since he is one of the people reported to be involved in drug trafficking," said Saitoti, as he admitted the anti-narcotics police violated the Makadara MP's parliamentary privileges when they tried to interrogate him within the precincts of Parliament. He said the officers would be punished.
But just after Saitoti made his statement, Juja MP also sensationally claimed Saboti MP Eugene Wamalwa and Kamukunji legislator Simon Mbugua were also in the dossier the US envoy handed over to KACC.
The MPs claimed they were innocent, saying they are victims of political conspiracies and smear campaign.
The Kisauni MP, who was among those calling for the names of the alleged drug lords be disclosed, claimed he was a victim of a smear campaign.
Powerful forces
With tears welling in his eyes, he said, "I have never dealt in drugs. I support the rule of law. If the Americans have evidence against us they have the right to come and pick us," Joho said angrily.
Wamalwa claimed that, "as a presidential aspirant" he believes he is a victim of "powerful forces out there" that he claims have fixed him.
Kabogo had claimed the Saboti MP is accused of assisting "a suspect waive Sh2 million duty on containers".
Quivering with emotion, the Kamukunji MP said he has no clue how he came to be implicated in the dirty trade, and argued his name should not be dragged into the mess because Saitoti had not mentioned him.