Storm over US secrets
By STANDARD TEAM
The conduct of US Ambassador Michael Ranneberger came under attack as politicians criticised the envoy for the unsavory remarks against local leaders in cables he filed to Washington.
Some MPs focused on Ranneberger's alleged misconduct, Prime Minister Raila Odinga dismissed it as gossip, and President Kibaki revisited the issue for the second day. "I urge all patriotic citizens to exercise fair judgment, responsibility, and proper analysis in their treatment of whatever information has come and still may come from Wikileaks," said Raila.
The Prime Minister's comment came a day after President Kibaki dismissed Wikileaks cables, which branded him and Raila as anti-reformists, who had benefited from impunity.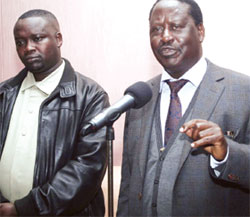 Prime Minister Raila Odinga and Kipkelion MP Lang'at Magerer on arrival from Mexico at the Jomo Kenyatta International Airport, Friday. [PICTURE: JONAH ONYANGO/STANDARD]
Ranneberger also came under attack from suspended Higher Education Minister, William Ruto, over reports he filed on the integrity of local leaders. Ruto said Wikileaks reports exposed the American Ambassador as a hypocrite. He said the reports have revealed what the US Government and the ambassador think of Kenya.
"The reports are good as we now know what Ranneberger and the US think of us," he added.
He accused the ambassador of pretending to be a friend of Kenya while he was undermining its leaders.
"There is no need having people who are friends during the day and enemies at night," the MP said.
Ruto, who was speaking when he visited families evicted from Mau Forest, said it is shocking what Ranneberger writes to his Government is different from what he has been saying. According to cables released by the whistleblower website, Wikileaks, Ranneberger said the two principals in the Grand Coalition were beneficiaries of impunity.
Yesterday, Raila returned from the Cancun climate change conference in Mexico and raised concerns about Wikileaks cables now dominating international news.
"The current reports of leakage of official American diplomatic cables are a deplorable breach of certain aspects of common human decency," said Raila, in a statement released from his office.
Earlier, Raila had downplayed the issue during a dawn press briefing at the VIP lounge at Jomo Kenyatta International Airport, shortly after landing from Mexico.
The PM termed the information contained in the secret cables as 'mere gossip' between diplomats and their home governments, which may not necessarily be true. He dismissed the validity of the leaked reports that have painted top Government officials as non-reformers.
"Contents of these cables are merely information shared by diplomats and their home governments, which may not be true," he said.
Diplomatic cables
President Kibaki commented on the leaked diplomatic cables for the second time yesterday, dismissing them as childish and inconsequential.
"Let those who write, write, and if they have a problem with us they can write even more. Kenyans judge the work the Government has done by tangible gains not from such nonsense. I urge leaders to focus on delivering services to Kenyans while in office and disregard such outbursts," said the President, who is on a tour of Central Province.
The President spoke after opening the Sh3.5 billion Dundori-Ol Kalou-Miharati-Engineer-Njabini roads constructed by China's Wu Yi Company. The President's opening of the road was pregnant with symbolism because, according to the leaked cables, the US has not taken kindly the Kibaki Administration's preference for China.
A statement released from Raila's office yesterday said the so-called 'secrets' also belong to the domain of gossip, and therefore do not merit more attention than necessary.
The cables released by Wikileaks gave details of how the US Government tried to stop Kenya from delivering 33 T72 tanks to Southern Sudan. The Grand Coalition Government had in early 2008 denied the T72 tanks that Somali pirates captured and before releasing them after a ransom was paid were destined for Southern Sudan.
It emerged from the leaks that Raila was among Government officials who pushed for their onward delivery to Southern Sudan during discussions with Ranneberger.
The PM's statement echoed remarks by US Assistant Secretary of State, Johnnie Carson, who said the cables were stolen information and likened them to "an individual reading a private mail".
"Passing on cable information was like stealing a private mail conversation between a husband and wife talking about their father-in-law," he said, via teleconference on Thursday.
He submitted that from his view, to act responsibly would not imply the world does not subscribe to the fundamental right of access to information. Raila, however, admitted the Wikileaks saga underlies a significant development on human affairs.
"In particular, let it be known by Kenyans that all those things we do under the cover of darkness in the hope they shall so remain as secrets must at some point bubble out."
He said it was no coincidence these Wikileaks were coming at a time we are confronted with some of the secrets of the past.
In Olkalou, MPs David Ngugi, Erastus Mureithi, Peter Njuguna, Lee Kinyanjui, and Jeremiah Kioni dismissed the reports as provocative.
They said President Kibaki was a reformist whose performance in office was best seen from the work in schools where millions of children were enjoying free education.
Speaking in Mau, MPs Boaz Kaino, Julius Kones, Zakayo Cheruiyot and Charles Keter who accompanied Ruto condemned Ranneberger's action.