Iteere to reveal names of top drug barons
By CYRUS OMBATI
Identities of prominent Kenyans involved in drug trafficking could be known in two weeks time as the Government steps up the fight against the illicit trade.
Commissioner of Police Mathew Iteere has received names of senior Kenyans linked to drug trafficking in the country and promised to reveal their identities in two weeks time.
Mr Iteere said he had commissioned a team of detectives to investigate the individuals and allegations leveled against them before he makes public the findings.
"We got the names of very prominent Kenyans from Intelligence agencies, and in a week or two, I will give out a report on the same and action to be taken," he said.
"No one will be spared irrespective of their status in the society if the findings prove he/she is involved in the illegal activities," he added.
But the commissioner is expected to reveal the names only if there would be credible evidence that can be presented before a court of law.
However, Iteere said he is yet to receive US Ambassador Michael Ranneberger's dossier on the five prominent Kenyans who have been banned from travelling to the US because of drug trafficking but indicated the names he has could be similar to those the envoy handed over to Kenya Anti-Corruption Commission.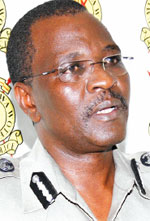 Commissioner of Police Mathew Iteere

A special police unit probing the drug trafficking syndicate is already in Mombasa and has began interrogating leaders believed to be having information about drug barons operating in the city.

Secret meetings

The unit from Nairobi composed of 20 police officers headed by Deputy Commissioner of Police Kambona Ombaba has already held secret meetings with a number of personalities, organisations and visited various sites used for drug passage.

Other sources said the team had interrogated some of the alleged barons mentioned in the racket as part of their investigation.

Even as some leaders shied away from recording statements with police, Mombasa Mayor Ahmed Mohdhar challenged those who have been vocal about drug trafficking to come out and reveal the names of those they suspect.

Kisauni politician Ms Amina Abdalla confirmed she met the officers at Hotel Sapphire but she, however, clarified that she did not record any statement.

"I did not record statement with the police because I have no evidence to link anybody," said Amina.

Iteere yesterday asked the public to volunteer information that can help police address the menace.

He said the information on the illegal businesses and those involved will be handled and treated with confidentiality by the team that is pursuing the matter.

Iteere made the remarks in his office, where he fell short of blaming past command decisions for the poor performance of the Anti-Narcotics Unit (ANU) in the last six years concerning the war on drugs.

He said the issue of prominent personalities being involved in drug trafficking came to the limelight last month before he ordered investigations. During the briefing he gave out a breakdown of all drugs seized since last year. In all, 3,223 people were arrested last year and prosecuted in court for dealing in narcotics, and this year, 1,348 have so far been taken to court. 8.5 kilogrammes of heroin were seized; 9.5 kilos of cocaine, 7,279 kg of cannabis sativa and derivatives and 500 grams of hashish were seized in police operations.

Anti-drug police

He added that 35.2 kilos of heroin, 22.9kg of cocaine and 14,706kg of cannabis and derivatives have been seized at various points this year.

The police boss said the ANU would in the next one week be restructured to make it more effective in combating the drug menace in the country.

This follows a directive by President Kibaki on Tuesday calling for a shake-up of the anti-drug police.

"We will increase the number of personnel there and vehicles to increase their mobility, which we have been informed is hampering their operations," he said.

Iteere said the unit had been performing its duties well until seven years ago when some changes were made. Currently, a senior superintendent of police heads ANU, but there have been complaints that it is not accorded the required support to be able to address the menace.

For instance, the ANU is not in every division headquarters, does not have enough money for Intelligence collection and vehicles for their operations.