Mystery deepens as Raila reveals nature of US call
By David Ocham and Lucianne Limo
Prime Minister Raila Odinga denied a senior US official apologised to him over leaked embassy documents that cast Kenya's leadership in bad light. Instead, the PM said US Undersecretary for African Affairs, Johnnie Carson, called to warn him that yet-to-be revealed cables going back to 1996 "may not be very pleasant", as the WikiLeaks scandal, now dubbed "Cablegate" continues to unravel globally.
Raila spoke in Parliament as he responded to requests by MPs for a "full disclosure" over his Tuesday trans-Atlantic telephone conversation with Carson, himself a former US envoy to Kenya.
Most pricked was Juja MP William Kabogo who sought a more detailed statement from the PM over the nature and scope of the telephone call.
But Raila told Parliament Carson did not actually offer an apology, but only called to warn the Government about leaked diplomatic cables on Kenya to be released on the whistle-blower WikiLeaks website.
However, some MPs were not convinced by his answer, questioning if Carson discussed drug trafficking, post-election violence and corruption in Kenya with Raila. According to the foreign press with access to the diplomatic cables hacked from the US department of State information systems, WikiLeaks acquired about 1,800 messages on Kenya, namely dispatches between the US State Department and its Kenyan embassy in Nairobi covering over a decade.
Reports indicate the dossier includes discussions on key Kenyan political figures, and Republican Party's opinion on the conduct of the 2007 presidential election, and the presidential candidates.
Raila said Carson called him on Tuesday, "To warn me of information that was going to come out soon." He said Carson was delivering a message from a "friendly" government.
"I look on it as criticism that is positive," said Raila.
"As a friendly government, they were taking an opportunity to warn us in advance," the PM said, adding that the US State Department made similar calls to other governments over the leaked cables.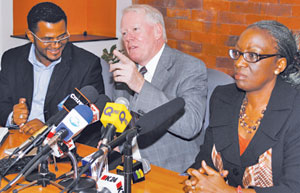 US Ambassador Michael Ranneberger (centre) with KNCHR chair Florence Jaoko and commissioner Omar Hassan where he denied his government apologised to PM Raila Odinga over leaked cables . [PHOTO: John Lectus/STANDARD]

But Ikolomani MP Bonny Khalwale said Raila should be forced to "make a full disclosure of this conversation", because the new Constitution declares such discussions as information the public is entitled to.

Kabogo argued that the PM must explain what Carson was apologising for, and whether any apology was issued to Raila as an individual or to the country for which Raila is premier.

No new disclosures

The PM said some of the information on the blog "is already in the public domain" and denied any new disclosures would destabilise the Government.

"We don't fear what WikiLeaks will publish. It is unlikely it will be anything untoward or different from what Kenyans already know," Raila said.

Elsewhere, the US Government has termed as unfortunate the leaked diplomatic cables touching on Kenya, saying it was something they had no control over.

US Ambassador Michael Ranneberger yesterday expressed regret over the leaks, saying he will not respond specifically to them because he has not seen all the documents.

"We express regret that the leaks that happened were unfortunate and it was something out of our control. We cannot comment on the alleged leaks, because we have not seen all of them and they may or may not be accurate," he said.

He said he would not call the communication between the PM and Carson an apology by the US official.

"What we did was call to alert the Kenya Government that this was happening," said Ranneberger at the Kenya National Commission on Human Rights offices.

He said Carson made the call due to the deep relationship his country has with Kenyan people and government.

Irresponsible leaks

"We have a strong relationship with Kenya and we wanted to make the point that we expect the relationship and partnership to continue regardless of these irresponsible leaks," he added.

The envoy noted that Kenya's relationship with the US is the closest in the whole continent.

"We have billion of dollars of US support to Kenya every year. Besides, we have a President (Barack Obama) with strong links here," he said, noting that his government appreciates the strategic position of Kenya in East Africa and the continent.

"The future stability of this country is important," said the US envoy.

WikiLeaks, an Internet-based organisation devoted to leaking US Government secrets, leaked the cables from US embassies all over the world. The words used in the cables are brutally raw and candid in their assessment of world governments and leaders by American envoys.

More than 14,000 cables sent from the US Embassy in Nairobi, which are part of 250,000 that WikiLeaks is leaking, have not been posted on the site yet, but are expected to reveal what the American envoys think of the Government.

Government Spokesman called a press conference on Tuesday, and 'revealed' news of Carson's call on Tuesday, claiming the apology was not about corruption claims made by US envoys.

Without explaining which country he was referring to Mutua also claimed there were foreign powers trying to create despondency against the Government using the youth.

He alleged foreign powers had been "funding youths to a tune of more than Sh1.6 billion" to oppose the State.

Even though Mutua did not say which foreign power he was referring to, he left little doubt that the US was his target.

Destabilise Kenya

Yesterday, Ranneberger dismissed Mutua's claims, saying it is nonsense for him to insinuate that the US wants to destabilise Kenya.

"We support thousands of NGOs that are active in health, agriculture, education, youth and gender empowerment because we have a deep and growing relationship," said the envoy.

He said the funding is transparent.

"It is utterly ridiculous to say this is aimed at destabilising Kenya, Rannerberger added.

He reiterated that his government is funding the $47 million "Yes Youth Can!" programme.

"The problem is if the young people are not empowered, then that would lead to instability," he said.
Time to spend as festivities beckon
In about a month, families will troop to many holiday destinations as the festive season reaches its peak. While some will find their way to their rural villages, others will give in to the temptations of the sun-kissed beaches at the Coast.