Police Commissioner meets top officers over salary dispute
By Cyrus ombati
Police Commissioner Matthew Iteere moved quickly to stem the discontent in the rank and file of the police.
Iteere summoned the eight provincial police officers a day after the police communication system was jammed by disgruntled officers to protest against the 'meagre' salary increment announced by Security Minister George Saitoti on Wednesday. Other formation commanders also attended the day-long meeting at the Vigilance House, Nairobi.
Iteere instructed senior police officers to ask their juniors to be patient as their new pay is implemented. He assured the pay increment would come in three phases as proposed in the Ransley Report on Police Reforms.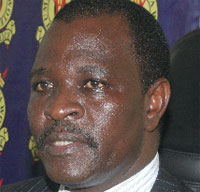 Police Commissioner Matthew Iteere

Sources told The Standard on Saturday the meeting had been called to discuss security arrangements for the August 4 referendum, but the salary hike announced on Wednesday was also discussed extensively.

Some junior police officers jammed the communication system in Nairobi to protest the salary increment they describe as 'meagre' in hard economic conditions.

The go-slow since Wednesday night has affected co-ordination of policing in the city, raising fears that criminals could take advantage of the situation. Police officers have been forced to use mobile phones to communicate with their juniors.

Others hurled abusive words at their seniors whenever they raised an issue, calling for response through the gadget, saying they wanted a better pay package.

Nairobi is most affected because it uses one communication system unlike upcountry where every district has its own system. The intensity of the interruptions is worse at night when the police are supposed to be on high security alert.

By last night, the disgruntled officers were still interrupting police communications. But Police Spokesman Eric Kiraithe assured that investigators were on course to unmask the saboteurs.

"We are trying to establish the people behind this, and we will arrest them," said Kiraithe.

The lowest officer will from end of this month earn a gross salary of Sh21,000.

The officers are set to earn better pay from next July, when the Government implements the next phase of the proposed salaries, and allowances that will cost Sh9.8 billion.

The increment will be implemented in three phases. Sh2 billion will be used to lease and construct new houses for the officers during the same period.

"We would have wanted the money doubled, but that cannot happen. As proposed, it is a three-year programme that takes into account the Government's ability to meet the cost of these increases," Prof Saitoti had said on Wednesday.

Medical Cover

Saitoti said the officers would also have medical cover.

A new constable or warder will have the salary increased from Sh11,000 to Sh14,000, with an allowance of Sh7,000, which brings the gross pay to Sh21,000.

The highest paid constable will earn Sh26,000 plus an allowance of Sh7,000, which brings the gross pay to Sh33,000.

A new lowest paid corporal will get a gross salary of Sh26,000, up from Sh22,000. Older one's will earn Sh42,000.

A new sergeant will earn a new pay of Sh33,000, up from Sh28,000, while an older one will take home Sh46,000, up from Sh37,000.

The announcement came after an additional Sh5.1 billion was allocated to the Internal Security Ministry to facilitate police reforms in the 2010/2011 Budget for the more than 95,000 personnel.

The new scheme indicates a fresh senior sergeant will get Sh36,000, up from Sh30,000. An older one will get Sh50,000, up from 41,000.

A fresh inspector of police or chief officer will get a new gross salary of Sh41,730, up from Sh35,000. Those who have been in service longer will get Sh56,000, up from Sh46,000.

The scale increases the new salary of a new chief inspector to Sh49,000, and experienced ones to Sh64,000.

A fresh superintendent will earn Sh60,000 while others one will take home a gross salary of Sh78,000.

A new senior superintendent will earn Sh66,000 with the others getting Sh86,000.

A fresh assistant commissioner of police will get a new gross salary of Sh78,000, and older one Sh100,000.

A senior assistant commissioner of police who has joined the rank will now earn Sh102,000 while an older one will get Sh124,000.

The scale has also increased the gross salary of a new deputy commissioner of police to Sh126,000 and an older one to Sh153,000.

New Vehicles

A senior deputy commissioner of police (2) will earn Sh144,000 while the one who has stayed in the rank for long will get Sh173,000.

Saitoti said senior deputy commissioner of police or commandant (1) will now take home Sh165,000 while an older one will earn Sh198,000.

AP Commandant and Commissioner of Prisons will earn Sh353,000 plus allowances, while a seasoned one will earn Sh388,000.

The Commissioner of Police's salary will now be increased to Sh560,000 in the new scheme.

The minister added they intend to buy 1,000 new vehicles this year for the officers.
What Raila told PSs
The Government is leaving nothing to chance in its effort to ensure the Proposed Constitution sails through at the August 4 referendum.