Grand reunion: Pro-reform heroes vow to back "Yes"
By David Ohito
They cast the picture of Kenya's rogue past, complete with blood spilt by police bullets, whips, and cudgels. They retold the dream of their lives, which was to see a new constitution, but which for some painfully ended up in an early grave, hospital bed, or solitary wing of razor-wired prison facility. They told of how they planted the first beacon in the search for a new constitution on July 7, 1990 — which in reform corridors is referred to as Saba Saba Day — exactly 20 years ago, yesterday.
Their host, Prime Minister Raila Odinga, put it candidly: "'Saba Saba' signalled the beginning of reforms and today we are on the eve of a new constitution, but repressive forces have ganged up against us. I am confident we will bring to fruition the new constitution on August 4. We must come together and put 'No' brigade to shame'.
He added: "Saba Saba is incomplete without (Mr Kenneth) Matiba and (Mr Charles) Rubia who were visited with cruelty that ruined their political careers and condemned them to frail health. They suffered in the hands of oppressors".
To inspire them, Raila began: "I have been sick in bed. But I have continued to pray that the Kenyan spirit that fought colonialists reincarnates and helps us in the 'Yes' campaigns. I am hopeful Kenyans will triumphantly vote for a new constitution."
His guests spoke about the separation from their families, the heartache of not seeing their children grow and wake up for school in the morning, and the torment of simply not being there for them.
The occasion was solemn but still they regaled the Kenyan media with the stories of how they braced themselves against the Kanu machine that did not brook opposition and whose word was law.
They looked back and reflected on the fear of tomorrow they shared, for they never knew where they would be. Many had died, suffered broken limbs, and even lost property and careers — the price they paid for return to multi-party democracy.
The heroes of the so-called 'second liberation', whose spirited battle against one-party regime came together at the lawn of Raila's Karen home, for a symbolic evening tea party.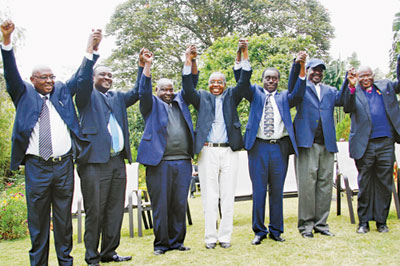 From left, Gitobu Imanyara, Gibson Kamau Kuria, Rtd Rev Timothy Njoya, Paul Muite, Prime Minister Raila Odinga, Rtd ACK Archbishop David Gitari and John Khaminwa celebrating the 20th anniversary of Saba Saba at Raila's residence in Karen,Wednesday. [PICTURE: GOVEDI ASUTSA/STANDARD]
Aluta continua
Raila, who occasionally exposed his bald side by removing Arsenal Football Club cap to show his visitors the scar on his head after the operation, declared in the spirit of the reform struggle then: "Aluta continua…Canaan is within sight and we must deliver a new constitution to complete the cause many have died for, others permanently maimed, and many widowed."
He added: "To Matiba and Rubia and many who fell by the way side, the only prize we can offer them is a new constitution."
Maseno West prelate Bishop Mwai Abiero joined Gitari and Njoya. They went down memory lane as they sipped tea and munched mandazis, confident the struggle was worth their while.
Njoya recounted how he was brutally bludgeoned by anti-reform forces in daylight: "I have been pregnant for 40 years with the new constitution … I ask all Kenyans to conceive this idea, even those in the 'No' so that we can deliver a new Kenya in unison on August 4."
The speakers who struck a conciliatory tone, and made clear they had buried the past, included lawyer Gibson Kamau Kuria, Muite, and Gitobu Imanyara.
Also present was Heritage Minister William ole Ntimama, who served a stint in jail over what he calls politically instigated charges and ODM MP Joseph Nanok. "I call this meeting a fellowship of like-minded people who share a cause to better Kenya," Njoya said.
As they stood in unity, they stoked memories of the other leading lights of the pro-reform movement at the time, including Raila's father, the late doyen of Opposition politics Jaramogi Oginga Odinga, and late Kitutu-Masaba MP George Anyona, who dared register a political party in 1982, leading to arrest and an orchestration in Parliament to make Kenya constitutionally a one-party state.
Though they are in the 'No' camp, the day also brought back memories of former political exiles Koigi wa Wamwere and Wanyiri Kihoro. Also not left out in the memories were supportive and yet controversial religious leaders such as the late Anglican bishops Alexander Kipsang Muge and Henry Okulu.
It also stirred memories of such controversial and brave politicians as Martin Shikuku, George Nthenge and Mohammed Bahamariz, Salim Ndamwe, thelate Kijana Wamalwa, John Keen, Rashid Mzee, and Samuel arap Ngeny whose voices for change resonated across the country then — galvanising support for repeal of the unpopular and restrictive Section 2(a) that was the main barrier to return to multipartyism.
Freedom fighters
"The people you see here are true comrades in arms, patriots hardened by freedom struggles…we must soldier on and plant the flag of a new Constitution on Mount Kenya and commemorate that day," Raila said.
He also spoke of the significance of the day: "This day is as important as Kenyatta Day and as proposed in the new constitution we should rename it Heroes Day to bring on board all freedom fighters."
Raila's wife, Ida capped the tea party with a moving speech: "It was difficult to explain to children why their father was in jail … No lawyer wanted to handle Raila's case, no landlord wanted me to be their tenant after I was thrown out of Kenya High School. No visitor wanted to come by."
She added: "When I hired John Khaminwa to be my lawyer, they detained him. When I turned to Mr Kamau Kuria, they arrested him. I had nowhere to turn to."