Uhuru tells unions rejecting interns is wasted opportunity
By Sam Otieno
Finance Minister Uhuru Kenyatta has described a move by teachers' unions to block recruitment of intern teachers as a wasted opportunity.
The minister, while addressing secondary school heads meeting in Mombasa, also urged the unions not to waste the opportunity again this year since he has allocated another Sh2.1 billion towards recruitment of teachers.
He even proposed part of Constituency Development Fund amounting to Sh14 billion meant to build schools be put together with what is set aside to hire teachers so that many more are employed.
The secondary school heads said the money should not go down to waste this year and should be channelled to school boards of governors and school management committees to support teachers hired at the school level.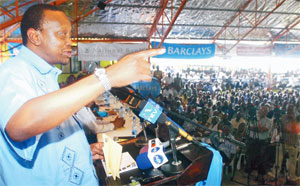 Deputy Prime Minister and Finance Minister Uhuru Kenyatta attended the secondary school head teachers' conference in Mombasa, Thursday. He urged teachers to agree to a Government proposal to hire intern teachers as the economy recovers. [PHOTO: MAARUFU MOHAMED/STANDARD]

According to Kenya Secondary School Heads Association Chairman Cleophas Tirop, the money should be sent to schools through the personal emolument vote.

"It is from this vote that schools get money to pay and support BoG teachers who are normally hired at the school level," said Mr Tirop.

Separate issues

He said court cases by Kenya National Union of Teachers and Kenya Union of Post Primary Education Teachers should not stop the Government from sending the money to schools.

"These are two separate issues and we do not take orders from Knut and Kuppet," said Tirop.

Education Minister Sam Ongeri agreed with the principals that the money be issued to BoGs to hire teachers.

The decision brings into focus the role of the Teachers Service Commission, a Government parastatal charged with recruitment, registration and management of teachers.

Both Prof Ongeri and Uhuru did not mention TSC in their pleas to have the unions withdraw their court cases to allow hiring of more teachers.

Tirop on his part said he is not against the role of TSC as a recruitment agency, but said it is mandated to recruit teachers on permanent and pensionable terms.

Knut and Kuppet, while addressing the heads yesterday, said hiring intern teachers is "adulterating the teaching profession".

Knut Secretary General Lawrence Majali said Ongeri was prejudicing a matter already in court.

Used optimally

The unions said they would not accept a replication of Kazi Kwa Vijana kind of arrangement in the profession.

TSC Chairman Ibrahim Hussein avoided the debate and urged the unions to ensure available teachers were used optimally.

Yesterday, Uhuru who is also Deputy Prime Minister, was categorical the economy cannot hire teachers on permanent and pensionable terms.

He said Treasury is ready to release the money next week so long as the stalemate is resolved.

"As we wait for the economy to improve, let us use the little available resources. I am praying a solution to this issue be found this year," said Uhuru.

He said the Sh2.1 billion allocated last year and a similar amount set aside this year can go a long way in having more teachers in the classrooms.

"The objective is not to punish someone but to create employment for the youth as we wait for the economy to improve," said Uhuru.

He said a solution ought to be found at the end of the conference to avoid the stalemate.
Tecno launches Camon 19 and Spark 9
Tecno Kenya announces launch of Camon 19 series & spark 9 seriesThe CAMON 19 Series will offer incredible night-time photography features & the SPARK 9 Series will redefine selfie and iconic design for Gen Z.